Cruising

Holiday
Ultimate Norwegian Coastal Cruise: Bergen Roundtrip
Includes a 2 night hotel stay in Bergen
Get the full experience...
Discover Scandinavian charm and spectacular views of the Midnight Sun during this breathtaking cruise around the enchanting Norwegian Fjords.
Fly to Bergen and enjoy an overnight hotel stay in this charming city on Norway's southwestern coast. Nestled between pine-clad hills and a quaint harbour where smart yachts and tiny fishing boats jostle for space, it's one of the country's most picturesque places and is best seen from the heights of Mount Fløyen, reached by a funicular. Embarking your ship in Bergen you'll sail first to Alesund, rebuilt in the Art Deco style of the era after a 1904 fire devastated the original town. Heading north to Trondheim you'll encounter a vibrant city packed with attractions, the highlights of which are the Nidaros Cathedral and Kjeungskjær lighthouse. Nearby lies the charming town of Rørvik, home to several museums, some of which focus on its prehistoric history. The terrain gets ever more impressive as you pass into the icy realm of the Arctic Circle. Watch for sheer granite cliffs and soaring sea eagles as you savour the delights of villages like Brønnøysund, Batsfjord and tiny Mehamn, set amongst a landscape once roamed by Vikings.
At Tromsø, you'll discover the largest city in Northern Norway. Head for the city centre, where the wooden houses date back to the 18th century, and marvel at the serrated peaks of distant mountain ranges. The scattered island groups around Samsund are among the most untainted areas of this stunning country and you could take a sea eagle safari. Before heading back to Bergen, stop at Bodo, selected as a European Capital of Culture for 2024, and pay another visit to Trondheim.
Package Includes
All flights & taxes
Cruise
11 night Norwegian Fjords cruise on board Hurtigruten with all meals


On-board lectures about your surroundings and its wildlife
On-board expedition team
Excursions on land allowing more in-depth exploration
Restaurants inspired by Norwegian and Nordic heritage

Hotel Stay

2 night four-star stay at Comfort Hotel in Bergen with breakfast
At a glance

Prices from
Polar Outside
Price based on 23 Sep 2021 departure
Polar Inside
Price based on 23 Sep 2021 departure
Arctic Superior
Price based on 23 Sep 2021 departure
Here to help
Call to book:
0861 666 481
Opening hours:
Mon to Fri: 9am - 5pm
NORWEGIAN FJORDS
As you cruise through the magnificent landscapes of the Norwegian Fjords, you'll spoil your senses as you drink in the enchanting views, inhale the smells of soaring pine forests and feel the icy breeze on your skin. Glide along and capture the sights of quaint fishing villages and charming fjord villages nestled on the cusp of the ink-blue waters.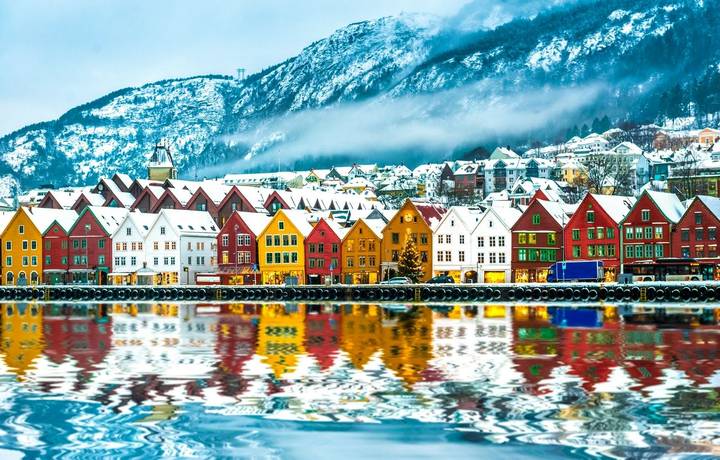 Bergen is a pretty medieval city known as the 'city of seven mountains' and gateway to the majestic Norwegian fjords. Explore Bryggen and admire the multi- coloured wooden houses; enjoy a ride on the Fløibanen funicular for amazing views of Bergen from the top of Mount Fløyen, or savour a traditional Bergen dish of fiskesuppe, a fish soup including muscles, prawns and fish dumplings.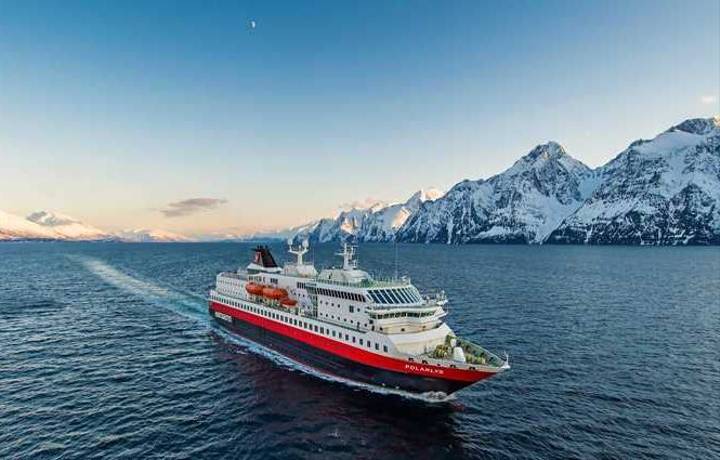 Bergen
- Embark Hurtigruten
Embark your ship which has its own Expedition Team on board so you can learn more about the nature, culture and phenomena you'll encounter on your adventure. You'll sail north from Bergen along the Hjeltefjord, following the same route as the Vikings. After enjoying a delicious buffet dinner, spend the rest of the evening relaxing as you admire the spectacular landscapes, either from the deck or the panorama lounges.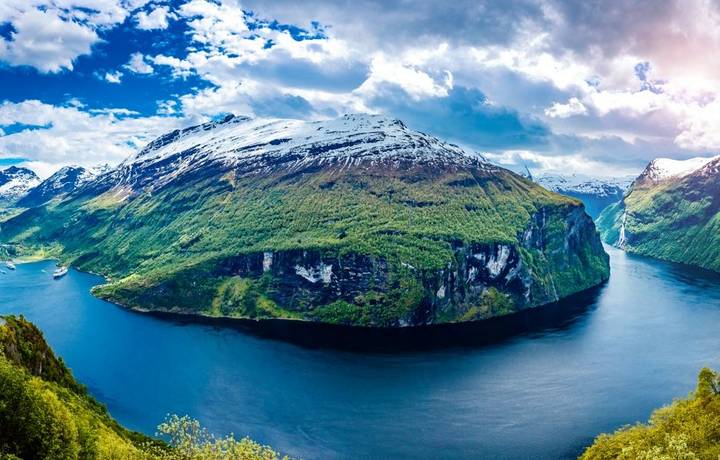 As you continue north, you'll call at Ålesund, renowned for its beautiful art nouveau architecture. After a devastating fire in 1904, most of the town was rebuilt in the fashionable style of the time, with numerous spires, towers and highly-ornate buildings. Here you can take an excursion to the salt-water aquarium to meet the resident penguins and up Mount Aksla for amazing views. Come evening, you'll arrive in Molde, known as the 'City of Roses' due to its sprawling gardens. Enjoy fantastic views of 222 mountain peaks across the fjord.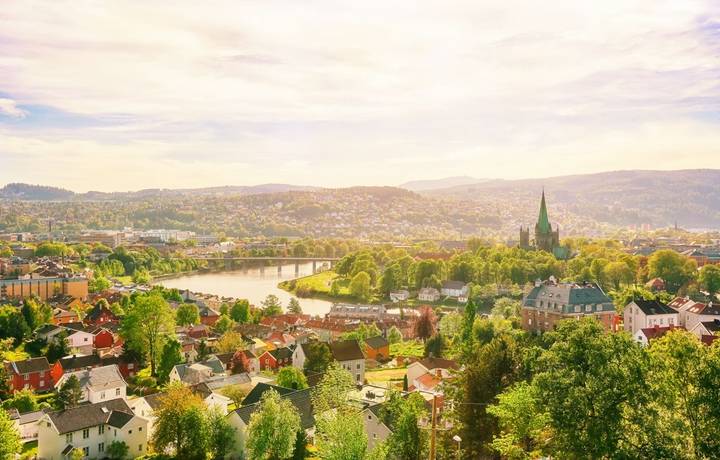 Kristiansund
- Trondheim - Rørvik
Today you'll call at colourful and vibrant Trondheim, a city full of culture with a wealth of things to see and do. Here you can visit the impressive Nidaros Cathedral, take a walking tour of the city or explore Trondheim from sea level in a kayak on the river Nid. As you set sail again in the afternoon, you'll pass the beautiful Kjeungskjær lighthouse and numerous islets and rocky outcrops before calling at the charming town of Rørvik.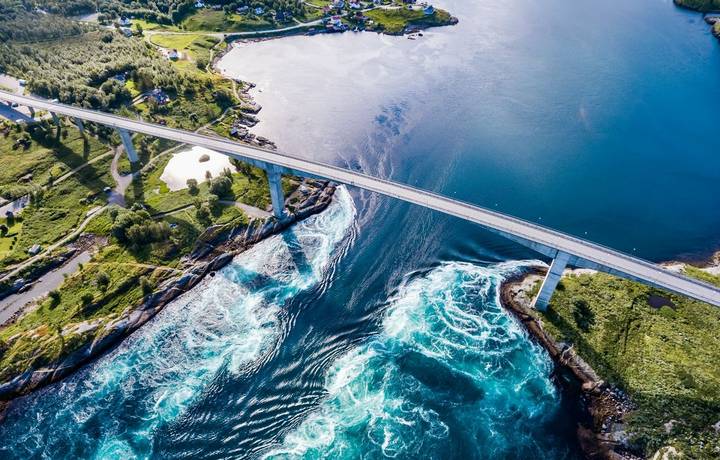 Today you'll cross into the Arctic Circle where you'll have the best chance of witnessing the enchanting Midnight Sun. You'll then sail along the beautiful coast of Helgeland where you'll admire mesmerising views of whirlpools and experience Saltstraumen, the world's most powerful maelstrom. Later the beautiful Lofoten Islands come into view, with their sheer granite cliffs, white sand beaches and picturesque fishing villages. Here you can get a taste of Viking life and enjoy some traditional food and entertainment.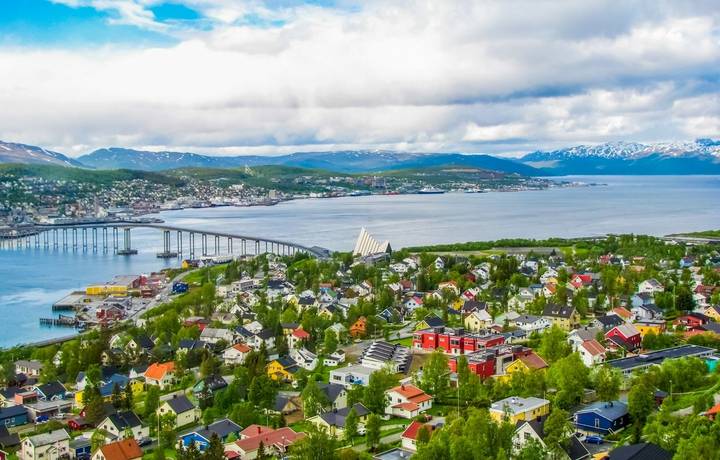 Stokmarknes
- Tromsø – Skjervøy
Among your stops today is the Capital of the Arctic, Tromsø. You'll have some time to discover the largest city in Northern Norway, packed with culture, history and a vitality that surprises many visitors. This is the perfect place to enjoy an Arctic adventure and enjoy activities including skiing, fishing, kayaking, dog sledding and whale safaris.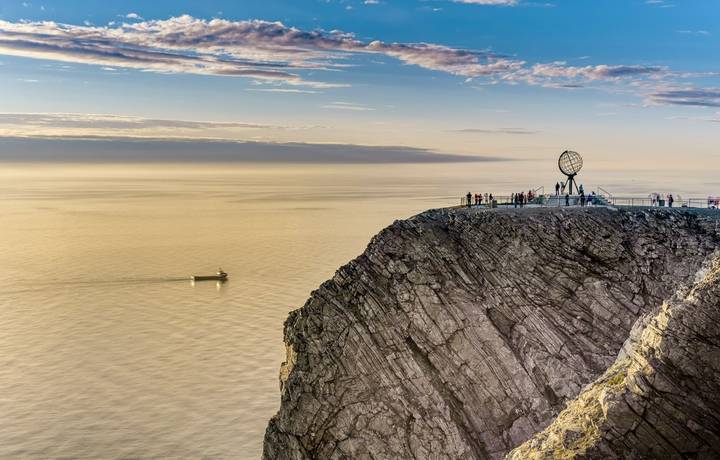 Honningsvåg is the gateway to the spectacular North Cape and you can take an excursion to the North Cape plateau where only the Svalbard Islands separate you from the North Pole. With clean, crisp air and views that extend to where the sea meets the horizon, the North Cape feels like the end of the world. You could also take a snowmobile trip through mesmerising scenery and learn how the local Sámi people use nature to survive.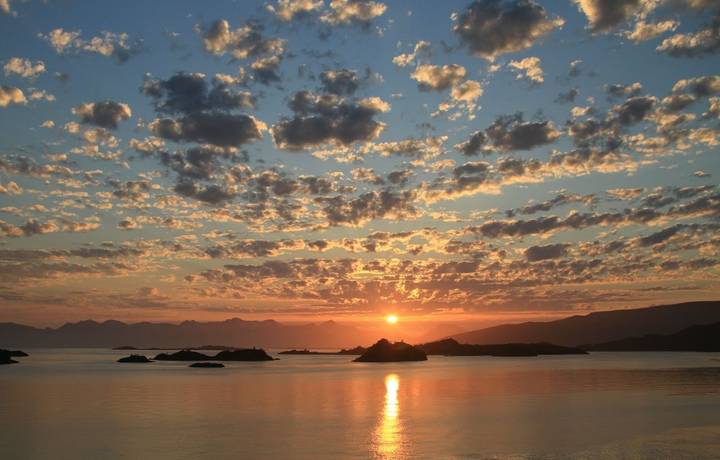 Båtsfjord – Kirkenes – Berlevåg
The wintry landscape in Kirkenes is perfect for snowmobile and dog sledding adventures and you can even visit the nearby fantastic snow hotel or embark on an excursion to catch and eat giant king crab from the Barents Sea. Here you are just a few miles from the Russian border so unsurprisingly there's a strong Russian influence and you'll notice signs in both Russian and Norwegian. This is the turning point in your cruise as you'll now start your return journey back to Bergen.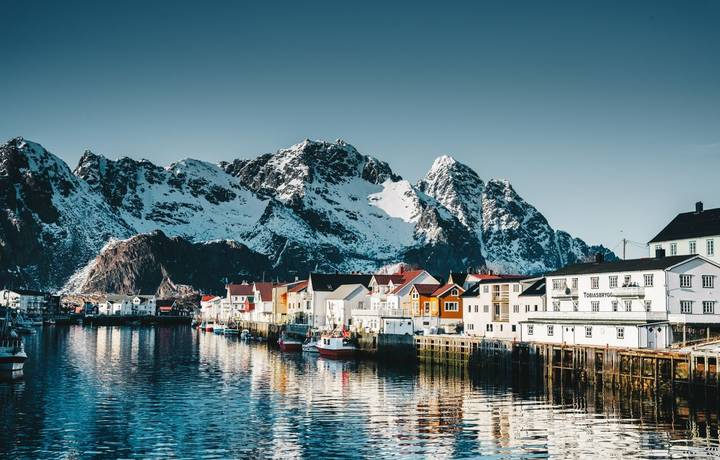 As you continue south, you'll stop at a number of ports to enjoy spectacular scenery, local specialities and historic landmarks. In Mehamn, you'll discover an intimate community on the small Vedvik peninsula which offers a vibrant nightlife and live music performances. From here, you'll return to Honningsvåg before continuing on to Hammerfest, where you could see the UNESCO-listed Meridian Column that commemorates the first precise geographic measurement of the globe. Tromsø awaits where you'll arrive in time to explore the city under the magic of the Midnight Sun.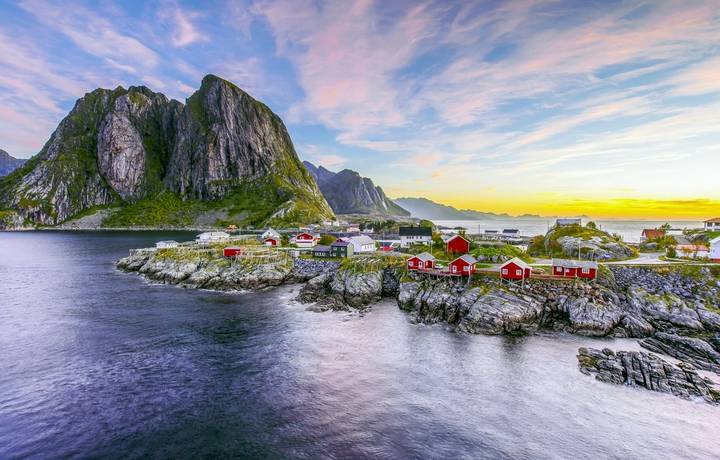 The island groups of Lofoten and Vesterålen offer some of the most stunning scenery that you'll encounter during your adventure. Sail through channels of clear green waters passing breathtaking sights of mountains soaring out of the sea and nature at its wildest interspersed with small picturesque fishing villages. Arriving in Trollfjord, you could take a sea eagle safari to see these rare birds of prey as they circle and dive for fish. Enjoy a stop at Svolvær, where you could savour a sunset horseback ride before proceeding to Stamsund along the towering Lofoten wall.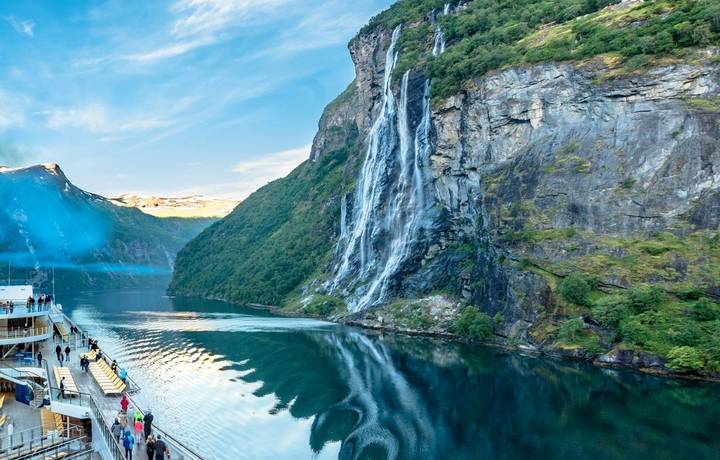 Today you'll sail past mountain ranges with unique formations that have inspired many ancient myths and legends. The Seven Sisters are supposed to be the daughters of a Troll king who escaped his strict control but were pursued by trolls until daylight turned them into stone. The mountain of Torghatten, with its distinctive hole in the middle, is said to be the King's hat that was pierced by an arrow when he threw it to protect the maidens.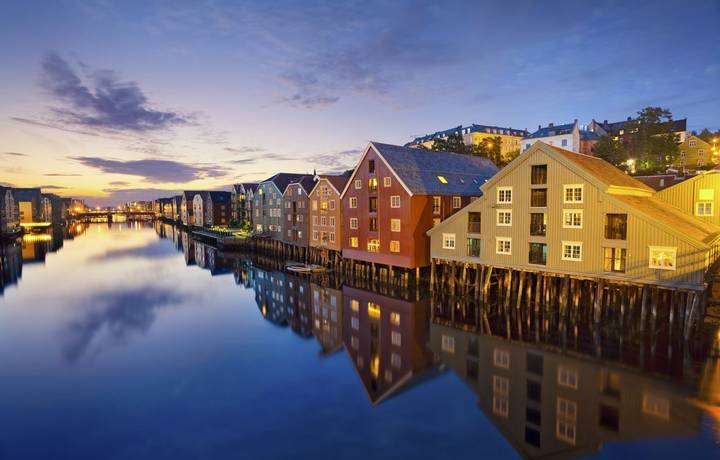 Today you'll get another opportunity to explore the city of Trondheim before sailing through the majestic Trondheimsfjord, Norway's third longest fjord. In Kristiansund, you'll get a sense of the importance of the fishing industry to Norway's coastal communities. The colourful city of Kristiansund is made up of four main islands and is known as Norway's 'dried cod capital' because of its long-time export of salted dry fish.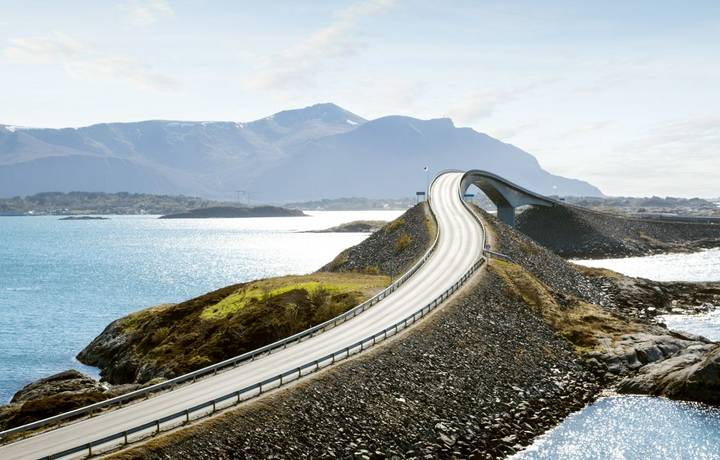 Ålesund – Bergen – Disembark Hurtigruten and Hotel Stay
As your cruise begins to draw to a close, you'll sail through the striking Nordfjord beneath Jostedal Glacier before reaching Florø. From here, you'll weave through the magnificent Sognefjord and drink in the marvellous views before arriving back in Bergen where you'll disembark for another hotel stay. One of the many delights in this town is travelling up the funicular to capture the perfect panorama of the town and harbour. Whether you are checking out museums or enjoying a walk through the bustling markets, you'll discover the quaint charm of Bergen.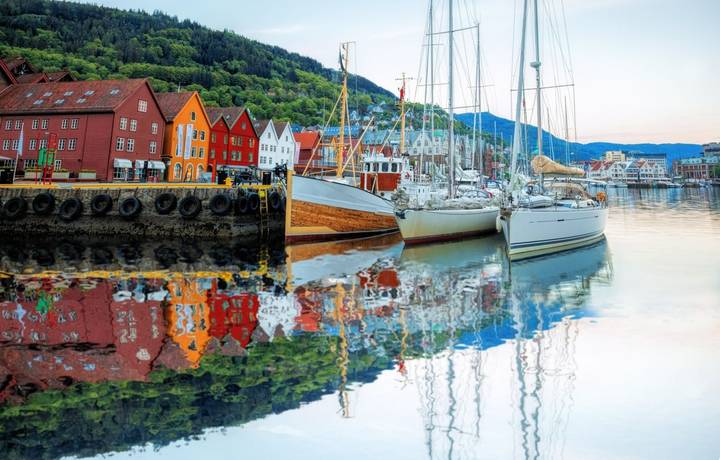 Your ultimate Norwegian getaway complete, today you'll make your way to the airport for your flight home.
Welcome aboard the Hurtigruten
Since 1893, Hurtigruten ships have been a hallmark of Norwegian coastal journeys. Relax in the panorama lounges and take in the unforgettable views of remarkable scenery, much of it the same as when the first Hurtigruten boats sailed by more than a century ago. Beautiful art throughout the ships' interior adds contemporary elegance to their maritime ambience. On board each ship is its own expedition team which provides interesting lectures, inside as well as out on the sun deck, making this an exciting and educational journey. Enjoy delicious food and fantastic drinks on your enriching and fascinating voyage.
Hurtigruten was founded in 1893 and is to this day, over 125 years old
Ship sailings sometimes visit other destinations due to poor weather and sea conditions
Incredible excursions which include various activities to participate in

Hurtigruten was founded in 1893 and is to this day, over 125 years old
Ship sailings sometimes visit other destinations due to poor weather and sea conditions
Incredible excursions which include various activities to participate in
Prices & Departures
regional flights available at a supplement