The Ultimate Indian Discovery
Discover Delhi, Shimla, Agra, Ranthambore and Jaipur
Get the full experience...
Immerse yourself in this fascinating holiday exploring the rich histories, mesmerising architecture and spirited atmosphere of India.
Experience the vibrant colours, sights and sounds of India during this 12 night discovery holiday of India; from vibrant city centres to the majestic Himalayas, sacred buildings and regal palaces to magnificent tigers in their natural habitat and iconic rail journeys; this holiday is packed full of memories that will last a lifetime.
Enjoy an overnight hotel stay in Delhi before you board an express train to Kalka. From here you'll embark the famous Toy Train from Kalka to Shimla. Journey through the majestic Himalayas, through 103 tunnels and over 700 Gothic bridges as you relax in comfortable surroundings on your scenic journey to Shimla. Following your stay, you'll board an express train back to Delhi where you'll begin your Golden Triangle tour and enjoy a safari stay at Ranthambore National Park.
You'll get the chance to explore the incredible sights of India's most popular destinations, Old and New Delhi, Agra and Jaipur on your Golden Triangle tour. Discover switchback alleyways and colonial relics, delve into the history of grand forts, marvel at the beauty and splendour of Rajasthan's opulent palaces, and immerse yourself in the bustle of colourful markets and bazaars. This fascinating region is full of unforgettable sights, from the serenely beautiful Hawa Mahal, a five-storey wonder with a pyramidal façade, captivating latticed screens, domes and spires to the magnificent Taj Mahal, an architectural masterpiece in white marble with beautiful inlay work.
Show more
Show less
Departing
Apr 2020 - Nov 2020
All flights
All taxes
All transfers
Rail journey
Tours included
1 night 4* hotel stay in Delhi
Shatabdi Express from Delhi to Kalka
Shimla Toy-Train journey including lunch
3 night 4* hotel stay in Shimla
Sightseeing tour of Shimla
Shatabdi Express from Kalka to Delhi
2 night hotel 4* stay in Delhi
Old and New Delhi city tour
1 night 4* hotel stay in Agra
Taj Mahal and Agra Fort tour
2 night 4* hotel stay in Ranthambore
Ranthambore National Park Safari tour
2 night 4* hotel stay in Jaipur
Jaipur city tour including Amber Fort
1 night 4* hotel stay in Delhi
All flights, taxes & transfers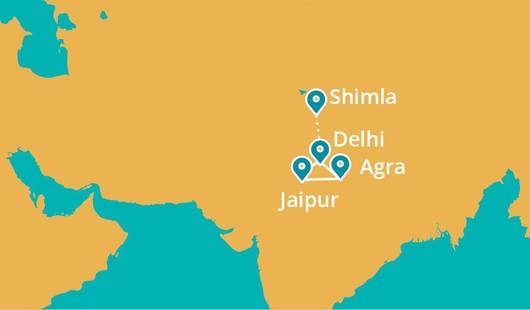 Prices
17 Apr 2020 - 29 Apr 2020 Standard from
R30,999
30 Oct 2020 - 11 Nov 2020 Standard from
R31,999
11 Nov 2020 - 23 Nov 2020 Standard from
R29,999
Phone: 0861 666 481
Contact us
Phone now to discuss and book your trip. Our team of Travel Experts can work with you one on one to personalise your itinerary.
Calls are free of charge.
Mon to Fri: 9am - 6pm
Sat: 9am - 4pm, Sun: 10am - 4pm