The Garden City and Hidden Temple Escape
Discover Singapore & Bali
From luminescent Supertrees to luxurious Balinese massages, indulge in this amazing holiday to Singapore and Bali.
Alive with spirit and soul, begin your incredible holiday with a three night hotel stay in Singapore. A foodie's paradise, discover delicious delights at all hours from classic street hawkers to Michelin star restaurants. During the day you can head to Orchard Road for some window shopping or get the Singapore Cable Car for mind-blowing views of the glistening harbour. Then, in the evening, wander through bustling night markets or visit Supertrees in Gardens by the Bay where you can admire the webbing glow against the night sky.
Next, you'll fly to Bali, a divine island with cliffside temples and idyllic paddy fields. You'll spend five nights at Prime Plaza Hotel which is perfect if you want to explore the south part of the island and lie on one of Sanur's famed beaches. The island resides inside the Coral Triangle which means that it hosts abundant marine life from vibrant coral reefs to turtles off its shores.
Then you will continue on to Mansion Resort and Spa in Ubud, Bali's capital of traditional crafts and dance for a final two nights. Here you will discover ancient temples where monkeys trot around or shadowy caves where archaic symbols are carved into the walls. With sacred volcanoes and an estimated 10,000 temples, the spirit of worship is imbued into the very air here.
Show more
Show less
Departing
Feb 2020 - Dec 2020
All flights
All taxes
All transfers
3 night stay at the Hotel Mi in Singapore
5 night stay at the Prime Plaza Hotel Sanur in Bali
2 night stay at The Mansion Resort Hotel & Spa in Bali
All flights, taxes & transfers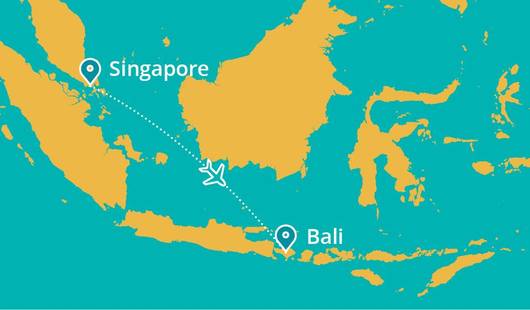 Itinerary
Singapore
From shopping in Marina Bay to ornate temples in Chinatown, whatever you set your mind to doing, Singapore is ready and waiting for you. Stroll along the aerial walkway between Supertrees delighting in the verdant greenery hosting up to 162,900 plants collectively. With your three night hotel stay here you can experience the night markets and taste the hidden delights of the Singaporean hawker stalls, sampling delicacies like hokkien prawn mee – a combination of fried noodles, prawns, fishcake and squid.
Hotel Mi
Bali
You'll then fly to Bali – the Island of the Gods – which certainly seems divine once you see the burning sunset cast over the neat rice paddy fields. Enjoy a five night hotel stay at the Prime Plaza Hotel - an ideal base to begin sightseeing this beautiful island - starting with its natural golden beaches and luxury restaurants in Sanur. Discover beauty at the Bali Orchid Garden or admire the exotic Indonesian birds at Bali Bird Sanctuary which hosts up to 250 different species.
Prime Plaza Hotel Sanur
Bali
You will then transfer to Mansion Resort and Spa located in Ubud, Bali's cultural centre of traditional music and dance for a two night hotel stay. Melt at the hotel's Heaven and Earth Spa with a traditional Balinese massage to restore your body and invigorate the mind before having a dip in one of the tranquil swimming pools. Wander in the hallowed halls of Ubud Palace and uncover the Sacred Monkey Forest Sanctuary where both macaque and human walk around this Hindu temple complex.
The Mansion Resort Hotel & Spa
Prices
February 2020 Standard from
R24,999
March 2020 Standard from
R25,999
April 2020 Standard from
R24,999
May 2020 Standard from
R22,999
June 2020 Standard from
R24,999
July 2020 Standard from
R25,999
August 2020 Standard from
R23,999
September 2020 Standard from
R23,999
October 2020 Standard from
R20,999
November 2020 Standard from
R22,999
December 2020 Standard from
R24,999
December 2020 Christmas School Holidays from
R26,999
Phone: 0861 666 481
Contact us
Phone now to discuss and book your trip. Our team of Travel Experts can work with you one on one to personalise your itinerary.
Calls are free of charge.
Mon to Fri: 9am - 6pm
Sat: 9am - 4pm, Sun: 10am - 4pm