Multicentre
The Charms of Europe
Discover Amsterdam, Paris, Venice and Rome
Book now for Sep - Dec 2021 | Includes Two FREE Tours!
Get the full experience...
Discover a handful of Europe's finest cities during hotel stays and your choice of two tours in Amsterdam, Paris, Venice and Rome.
Your European holiday begins in Amsterdam where you'll enjoy a three night stay. Home to 17th century architecture, winding canals and cosy cafes, despite its historic façade, Amsterdam is a trend-setting city known for its modern art, cool restaurants and fashionable boutiques. During your stay, visit sights such as the haunting Anne Frank's House, learn about the history of beer at the Heineken Experience or meet your favourite celebrities immortalized in wax at Madame Tussauds.
Next, you'll travel to Paris, one of the most cosmopolitan cities in the world and the fashionable capital of France. Obvious highlights include the Eiffel Tower; the former historic palace, The Louvre, now home to a mammoth art collection and the iconic Arc de Triomphe. To discover the city from a different perspective, you could also join a sightseeing or restaurant cruise along the River Seine as you drift past the river banks and famous monuments of Paris.
The cobwebbed canals of Venice await – enchanting and exquisite the city is a showstopper. Traverse the atmospheric waterways onboard an elegant gondola; visit the stunning Doge's Palace or sip a glass of prosecco and watch the world go by at Piazza San Marco.
Your final destination is the Eternal City of Rome. Explore streets steeped in ancient history, where Byzantine mosaics grace church ceilings and cool catacombs slumber beneath your feet. With three nights in this unforgettable location, you'll be awed by the scale of St Peter's Square at the Vatican and the imposing Colosseum as you walk in the footsteps of gladiators.
Package Includes
All flights, taxes & rail transfers
Hotel Stays
3 night four-star hotel stay in Amsterdam
3 night four-star hotel stay in Paris
3 night four-star hotel stay in Venice
3 night four-star hotel stay in Rome
Two FREE tours in either Amsterdam, Paris, Venice or Rome - Choose from:
Amsterdam city walking tour
Paris city bus tour
Venice city walking tour and Gondola ride
Rome city walking tour
At a glance
Departing Sep 21 - Dec 21
Prices from
Standard
Price based on 07 Nov 2021 departure
Here to help
Call to book:
0861 666 481
Opening hours:
Mon to Fri: 9am - 5pm
Amsterdam
Wherever you go in the city, Amsterdam's canal network is unavoidable. Follow these barge-lined waterways into the heart of the city's residential neighbourhoods and find a friendly café of restaurant to soak up the ambience. Or take a barge trip yourself and get a different perspective of the Netherlands' captivating capital.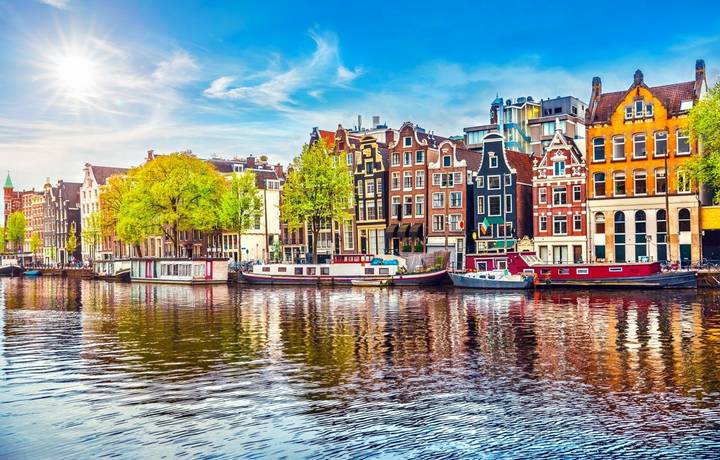 DAY 1 - 3
| 2 - 4 Sep 2021
The Netherlands' carefree capital is known for its picturesque canals lined with colourful barges, ever-blooming tulips and distinctive waterfront houses that are strikingly tall and narrow. Along with its historic facades you'll discover the fascinating Rijksmuseum, a stone's throw from the Van Gogh Museum and the Anne Frank House. Take a pedalo along the serene waters, pop into the Heineken Museum for a cool lager or hire a bike for the day and explore the windmills that pepper the picturesque countryside.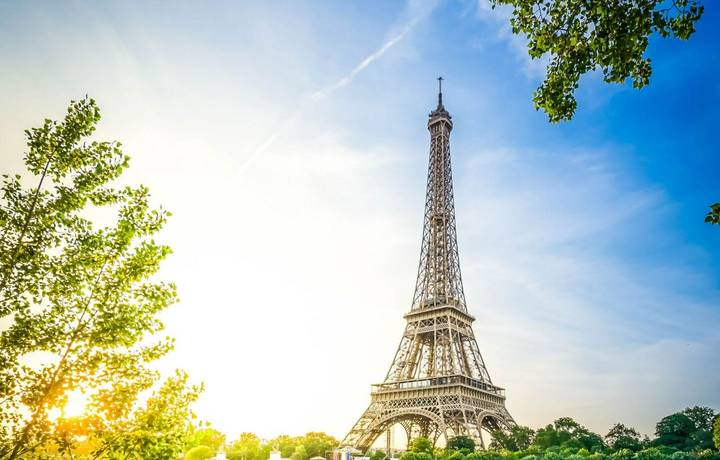 DAY 3 - 6
| 4 - 7 Sep 2021
Brimming with culture, home to world-famous art galleries, and blessed with architectural icons like the inimitable Eiffel Tower, Paris is a joy to discover. France has always set the gastronomic bar high so you'll always find a great food, whether you're after a croque monsieur to take away or a steak cooked to perfection. Catch a show at the Moulin Rouge, visit the Sacre Coeur in the hills of Montmartre or go shopping in the chic stores of Champs-Élysées - Paris has something for everyone.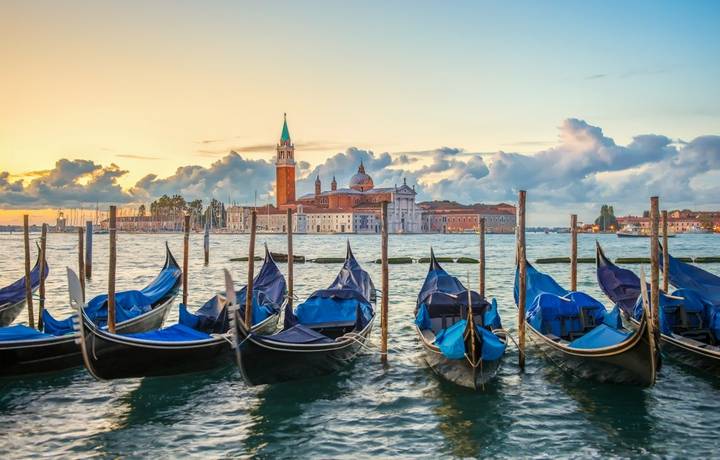 DAY 6 - 9
| 7 - 10 Sep 2021
The architecture of this extraordinary city has remained largely unchanged for centuries. For the quintessential Venetian experience, glide around the lagoons on a gondola and pass under one of the numerous beautiful bridges that criss-cross the canals. Or you could go to the opera or wander around the 15th century Doge's Palace, gaining an insight into the lives of Venice's dukes who once presided over meetings in rooms decorated by art masters such as Titian and Tintoretto. The city is also home to the grand St Mark's Square, one of the finest on the continent.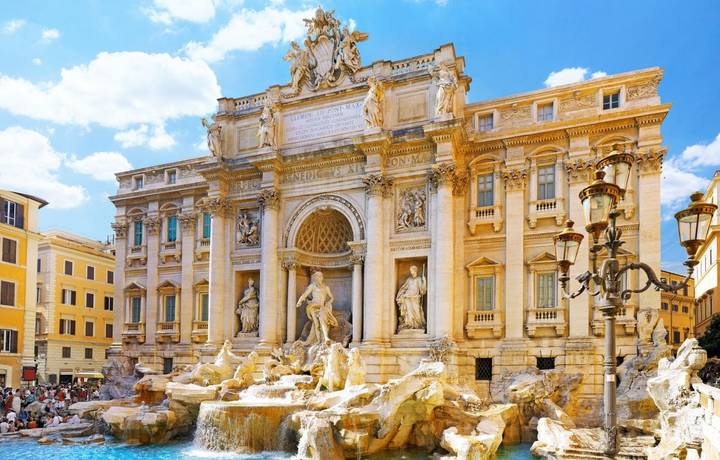 DAY 9 - 12
| 10 - 13 Sep 2021
End your European cities tour with a visit to Italy's ancient capital, an outdoor museum of UNESCO World Heritage Sites such as the Pantheon, the Baroque beauty of the Trevi Fountain and the mighty Colosseum, where gladiators once did battle. Walk around the cobblestone streets of the old Trastevere neighbourhood where you'll find family-run trattorias, street stalls piled high with glossy vegetables and gelato stands. Then find a pavement café where you can sip an espresso while watching the stylish locals buzz around the streets on their Vespa scooters.
Your Hotel Information
Corenden City Hotel Amsterdam
A comfortable, modern and unpretentious hotel just a short ride from Amsterdam city centre, the Corenden is just the kind of place you want to return to after strolling around the endless sights of Amsterdam. Pamper yourself at the Vitality Spa, where you'll find a Hammam, Finnish sauna and a number of treatments. At the Cor & Don's restaurant you can fuel up with a diverse continental breakfast, get take-away bites or sit down for a feast of pasta dishes, meat grills and much more.
General Information
Free Wi-Fi
One restaurant and bar
Vitality Spa
Indoor pool and gym
Peyris Opera - Paris
This stylish three-star hotel is centrally located between Opera Garnier and the Gare du Nord, which means you're in a fabulous location to head out an explore the surrounding attractions including Galeries Lafayette, Les Halles and Palais Garnier. The hotel is also conveniently situated within walking distance of public transport. Rooms are fashionably decorated in striking monochrome, with vibrant splashes of bold colour for a boutique hotel feel and feature flat-screen TVs, free WiFi access, air-conditioning and high-quality bedding.
General Information
Transfer from the airport: Approx. 47 minutes
Number of rooms: 50
Complimentary WiFi
Air conditioning
24-hour Bar
Laundry service
Buffet breakfast
Hotel San Cassiano Residenza d'Epoca Ca'Favretto - Venice
Overlooking the magical sight of the Grand Canal, the Hotel San Cassiano, is an elegant four-star hotel in the centre of Venice and was the former home of one of the most important Venetian artists of the 19th century, Giacomo Favretto. This luxe hotel, set in a 14th century building, is just an eight minute walk from the striking Rialto Bridge and 15 minutes from Piazza San Marco. Decorated with Venetian style furnishings and floor-to-ceiling windows, it's a hotel that evokes the epitome of authentic Venice. Enjoy a buffet breakfast of continental and international cuisine in the splendid dining hall, savour a drink in the cosy courtyard and embrace the charm of the Santa Croce district.
General Information
Transfer from the airport: Approx. 25 minutes
Number of rooms: 35
Complimentary WiFi
Air conditioning
Room Service
Bar
Restaurant
Buffet breakfast
24-hour front desk
Demetra Hotel - Rome
Situated in the heart of Rome, the four-star Demetra Hotel is nestled in an elegant historical building, restored to provide a modern yet charming facility. Fabulously located, you'll find some of the city's most remarkable attractions including the Colosseum, the Baths of Diocletian and the Roman Forum, all within easy reach. All rooms are stylishly decorated with refined modern elegance and feature flat-screen TVs, air conditioning, high-speed Wi-Fi and a private bathroom.
General Information
Transfer from the airport: Approx. 38 minutes
Number of rooms: 27
Complimentary WiFi

Prices & Departures
regional flights available at a supplement