The Charms of Europe
Discover Amsterdam, Paris, Venice & Rome
Discover a handful of Europe's finest cities during hotel stays and your choice of two tours in Amsterdam, Paris, Venice and Rome.
Your European holiday begins in Amsterdam where you'll enjoy a three night stay. Home to 17th century architecture, winding canals and cosy cafes, despite its historic façade, Amsterdam is a trend-setting city known for its modern art, cool restaurants and fashionable boutiques. During your stay, visit sights such as the haunting Anne Frank's House, learn about the history of beer at the Heineken Experience or meet your favourite celebrities immortalized in wax at Madame Tussauds.
Next, you'll travel to Paris, one of the most cosmopolitan cities in the world and the fashionable capital of France. Obvious highlights include the Eiffel Tower; the former historic palace, The Louvre, now home to a mammoth art collection and the iconic Arc de Triomphe. To discover the city from a different perspective, you could also join a sightseeing or restaurant cruise along the River Seine as you drift past the river banks and famous monuments of Paris.
The cobwebbed canals of Venice await – enchanting and exquisite the city is a showstopper. Traverse the atmospheric waterways onboard an elegant gondola; visit the stunning Doge's Palace or sip a glass of prosecco and watch the world go by at Piazza San Marco.
Your final destination is the Eternal City of Rome. Explore streets steeped in ancient history, where Byzantine mosaics grace church ceilings and cool catacombs slumber beneath your feet. With three nights in this unforgettable location, you'll be awed by the scale of St Peter's Square at the Vatican and the imposing Colosseum as you walk in the footsteps of gladiators.
Show more
Show less
Departing
Apr 2021 - Dec 2021
All flights
All taxes
Rail journey
Tours included
3 night hotel stay in Amsterdam
3 night hotel stay in Paris
3 night hotel stay in Venice
3 night hotel stay in Rome
Two FREE tours in either Amsterdam, Paris, Venice or Rome - Choose from:
Amsterdam city walking tour
Paris city bus tour
Venice city walking tour and Gondola ride
Rome Hop-on, Hop-off city sightseeing bus tour
All flights & taxes
All rail journeys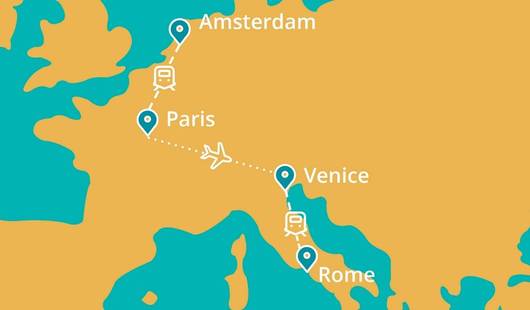 Prices
April 2021 Easter School Holidays from
R37,999
April 2021 Standard from
R36,999
May 2021 Standard from
R35,999
June 2021 Standard from
R35,999
June 2021 June School Holidays from
R36,999
July 2021 Standard from
R32,999
August 2021 Standard from
R35,999
September 2021 Standard from
R34,999
September 2021 September School Holidays from
R36,999
October 2021 Standard from
R29,999
November 2021 Standard from
R27,999
November 2021 Standard from
R25,999
December 2021 Christmas School Holidays from
R36,999
Phone: 0861 666 481
Contact us
Phone now to discuss and book your trip. Our team of Travel Experts can work with you one on one to personalise your itinerary.
Calls are free of charge.
Mon to Fri: 9am - 6pm
Sat: 9am - 4pm, Sun: 10am - 4pm