Multicentre
Thailand Island Trail
Discover Phuket, Phi Phi, Krabi & Bangkok
Book now for Sep - Dec 2021
Get the full experience...
Uncover true Thailand treasures, from temples tucked away in the wilderness to unspoilt beaches and mangrove forests.
Fly to beautiful Phuket, an island replete with mountains and rainforests. Here, you'll enjoy a three-night hotel stay, with ample time to visit the nearby temples such as Wat Chalong, or explore the Phang Nga National Park.
A ferry will then whisk you away for two nights to Phi Phi, an island blessed with both serene and secluded bays and a dazzling array of beach-side entertainment. Whether you're after adventure or relaxation – or both – you're sure to find it here.
Another ferry will take you to Krabi on southern Thailand's west coast where you'll stay for two nights. Experience boundless beauty with limestone cliffs, mangrove forests and offshore islands. This destination is home to stunning scenery, where you'll find a national park with a crystal-clear lake, a waterfall and hot springs. Seek out the Tiger Cave Monastery, a serene spot where Buddhist monks practise meditation.
Your holiday concludes in Bangkok, where you'll spend two nights. This vibrant and colourful city is known for its golden temples, charming river boats and floating markets. Bag a bargain, shop for souvenirs or tour the lavish palaces - the perfect end to your Thailand trip.
Package Includes
All flights, taxes & ferries
Hotel Stays
3 night four-star hotel stay in Phuket
2 night four-star hotel stay in Phi Phi
2 night four-star hotel stay in Krabi
2 night five-star hotel stay in Bangkok
At a glance
Departing Sep 21 - Dec 21
Prices from
Standard
Price based on 12 Oct 2021 departure
Here to help
Call to book:
0861 666 481
Opening hours:
Mon to Fri: 9am - 5pm
Bangkok Floating Markets
Bangkok's ever-present floating markets offer plenty of photo-taking opportunities and are one of the things that make this city such a joy to explore. You'll find endless waterways clogged with wooden, long-tail boats piled impossibly high with fruit, vegetables and flowers that form a kaleidoscopic sight and an enticing cocktail of aromas.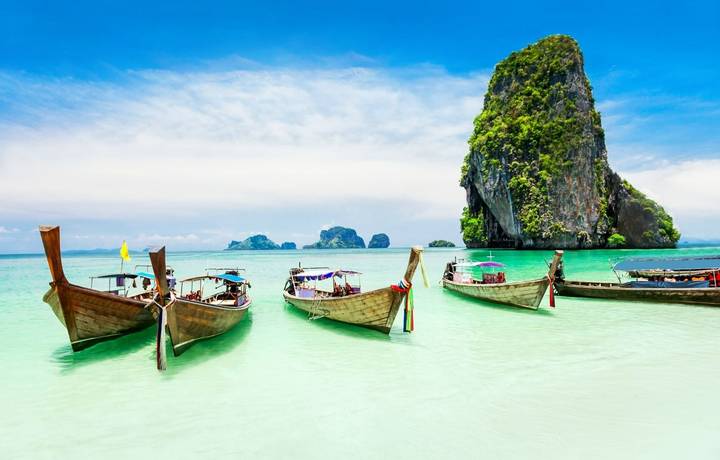 DAY 1 - 4
| 2 - 5 Sep 2021
Covered with rainforest and dotted with temples, Phuket is Thailand's largest island, an idyllic province of soft sandy beaches and swaying palm trees. During your time on the island you could take an excursion to picturesque Phang Nga Bay, enjoy a hit of culture in Old Phuket Town, or make the most of the glorious coastline brimming with beautiful beaches. The island also offers a multitude of restaurants, bars and watersports, as well as tours into the less-visited parts of the island.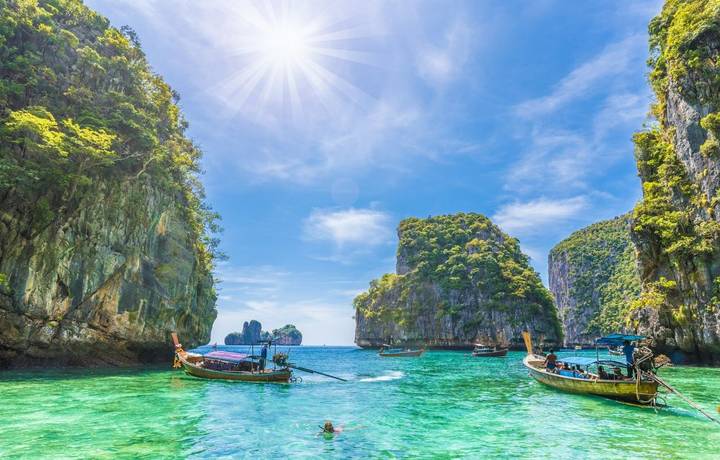 DAY 4 - 6
| 5 - 7 Sep 2021
Experience the incredible beauty of these paradise islands, where breathtaking rock formations rise from the vivid turquoise waters and the beaches are embraced by lush jungle.
The beautiful Phi Phi islands are the perfect place to enjoy an all-round break, a destination that balances both serene and secluded bays, alongside a dazzling array of beachside entertainment.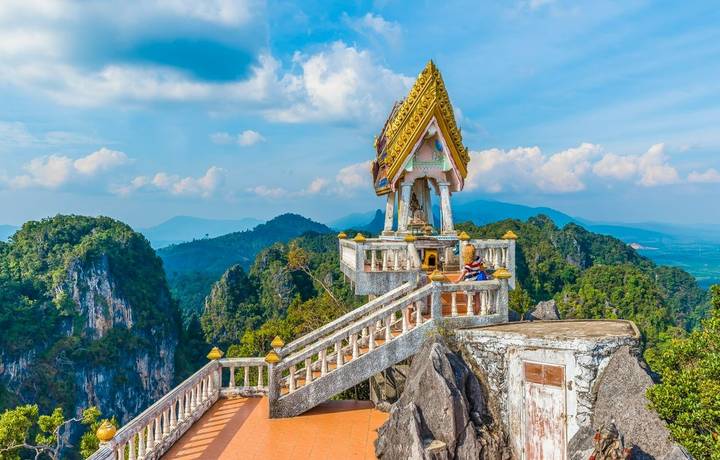 DAY 6 - 8
| 7 - 9 Sep 2021
Nestled amongst limestone karsts and mangrove forest you'll find Krabi, yet another example of Thailand's enduring beauty. Here, beautiful beaches are a highlight, but those seeking a little adventure could head to Khao Phanom Bencha National Park, home to a stunning rainforest filled with cascading waterfalls and wildlife trails. There's also the mountain-top Tiger Cave Temple with its gleaming gold Buddha statue.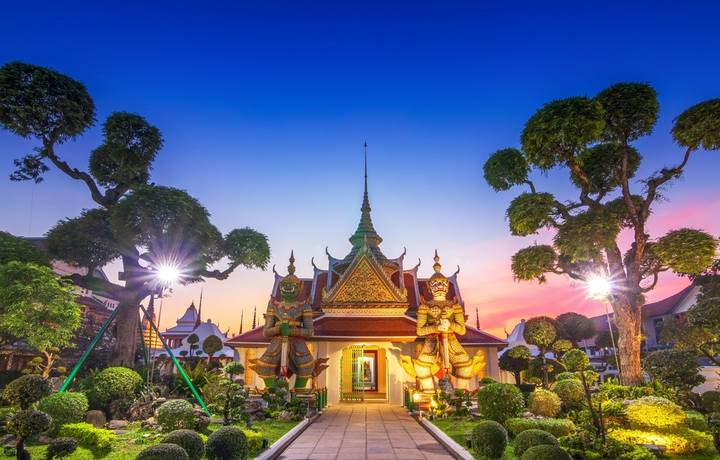 DAY 8 - 10
| 9 - 11 Sep 2021
With glittering temples, floating markets and intoxicating street life, Bangkok offers visitors and residents alike a diverse taste of Thailand. Without a doubt, local cuisine is Bangkok's major highlight. With sizzling dishes served at humble street stalls and haute cuisine available from romantic rooftop restaurants, there really is something for everyone here.
Your Hotel Information
Deevana Patong Resort & Spa
The relaxed and down-to-earth resort of the three-star Deevana Patong Resort & Spa sprawls across 4 hectares of lush tropical gardens and is a mere 11-minute walk from Patong Beach. Featuring balcony rooms with garden or pools views, you can unwind in sumptuous comfort and drink in the oasis of natural calm and tranquillity. Elegant amenities include two restaurants, a swim-up pool bar, two swimming pools and an oriental spa.
General Information
Two outdoor swimming pools
Two restaurants and pool-side bars
Orientala Spa and facilities (inc. jacuzzi)
Limited Wi-Fi
P.P. Erawan Palms Resort - Phi Phi
Perched beside the stunning Laemthong Beach on the quiet north side of Phi Phi, this is the perfect place for a relaxing and romantic stay. Enjoy a traditional Thai massage at the beach-side pavilions and sip a cocktail in the shade of palm trees at the Coco Bar. Tuck into local or Italian cuisine and hop on a long tail boat to discover the beautiful islands and bays in the Andaman Sea. There are also great water sports facilities.
General Information
Six bars and restaurants
Water sports facilities and dive centre
Two outdoor swimming pools

Beach-front massage hut
Free Wi-Fi
Marina Express - Fisherman - Krabi
This stylish and contemporary hotel is near Ao Nang, one of Krabi's best beaches, to which you can take the complimentary regular shuttle car. Spend time beside the spacious swimming pool fringed with tropical plants and eat from a diverse range of dishes at the Sea Pier Restaurant. You're also just a few minutes away from a range of attractions, from temples to enchanting caves and lush forests.
General Information
Free unlimited Wi-Fi
Fitness room
Outdoor swimming pool
One restaurant and one pool bar
In-room dining
Dream Bangkok
Dream Bangkok is a trendy and modern four-star hotel in the heart of Thailand's capital. Sheathed in shimmering glass and bathed in a multi-coloured neon glow, this extravagant hotel in Sukhumvit is a definite eye-catcher. It's breathtaking interior of aesthetic delights exudes hypnotic charm, inviting you into its artistic clutches. Unwind in the award-winning Coran Boutique Spa, relax in the rooftop pool and capture views over the bustling metropolis or venture out and explore vibrant Sukhumvit, the city's hub of culture, entertainment and fashion.
General Information
Free WiFi
Outdoor swimming pool
Fitness centre
Restaurants & bars
Concierge service
Coran Boutique Spa
regional flights available at a supplement