Thailand Island Trail
Discover Phuket, Phi Phi, Krabi & Bangkok
Uncover true Thailand treasures from temples tucked away in the wilderness, to unspoilt beaches and mangrove forests.
Fly to beautiful Phuket, an island replete with mountains and rainforests. Here, you'll enjoy a three night hotel stay with ample time to visit the nearby temples, such as Wat Chalong, or explore the Phang Nga National Park.
A ferry will then whisk you away to Phi Phi for two nights, an island that balances both serene and secluded bays, alongside a dazzling array of beachside entertainment. Whether you're after adventure or relaxation – or both – you're sure to find it here.
Another ferry will take you to Krabi, on southern Thailand's west coast, where you'll stay for two nights. Experience boundless beauty with limestone cliffs, mangrove forests and offshore islands. This destination is home to stunning scenery, where you'll find a national park with a crystal-clear lake, a waterfall and hot springs. Seek out the Tiger Cave Monastery, a serene spot where Buddhist monks practice meditation.
Your holiday concludes in Bangkok, where you'll spend two nights. This vibrant and colourful city is known for its golden temples, charming river boats and floating markets. Bag a bargain, shop for souvenirs or tour the lavish palaces; the perfect end to your Thailand trip.
Show more
Show less
Departing
Jun 2019 - Feb 2020
3 night hotel stay in Phuket
2 night hotel stay in Phi Phi
2 night hotel stay in Krabi
2 night hotel stay in Bangkok
All flights & taxes
All ferries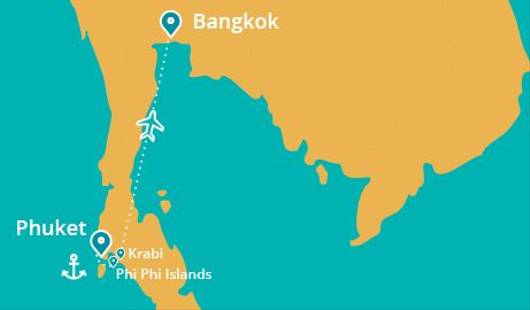 Prices
June 2019 Standard from
R18,999
July 2019 Standard from
R19,999
August 2019 Standard from
R17,999
September 2019 Standard from
R21,999
October 2019 Standard from
R20,999
November 2019 Standard from
R23,999
December 2019 Standard from
R25,999
January 2020 Standard from
R19,999
February 2020 Standard from
R20,999
Phone: 0861 666 481
Contact us
Phone now to discuss and book your trip. Our team of Travel Experts can work with you one on one to personalise your itinerary.
Calls are free of charge.
Mon to Fri: 9am - 6pm
Sat: 9am - 4pm, Sun: 10am - 4pm