Southeast Asia Trio
Discover Singapore, Kuala Lumpur & Bali
Discover city streets lined with futuristic buildings, lush paddy fields and tranquil beaches during this nine night Southeast Asia Trio holiday.
Welcome to Singapore, a city of curious contrasts and exotic fusions, where sacred temples sit in the shadows of sleek, science-fiction-style architecture. You'll stay here for two nights, with time to discover pristine streets that lead to wild rainforests filled with dense canopies of banana trees and cinnamon plants.
Its many attractions include Battlebox WWII, a fascinating British underground command centre inside Fort Canning Hill. You can also walk in the footsteps of early pioneers at the Chinatown Heritage Centre, explore the National Gallery and stroll through the exquisite Gardens by the Bay.
Next, you'll travel to Kuala Lumpur, dominated by the glittering Petronas Towers. This stainless steel and glass structure holds beautiful Islamic patterns and geometric structures, with carefully crafted shapes creating eight-pointed stars. In the city you'll find hawker stalls, traditional neighbourhoods and the KL Bird Park, a landscaped aviary brimming with tropical birds. A must-see attraction is the Batu Caves, a limestone hill with three caverns, said to be around 400 million years old.
Your final destination is Bali, where you'll enjoy a five night stay to relax on the golden beaches in the resorts that Bali is known for. During your time here, you could also journey inland to Ubud, Bali's spiritual and cultural heart. Surrounded by lush rainforest and rice paddy fields, pretty Hindu temples sit nestled within the verdant landscape and traditional dance is performed every night. While here, you can visit the Sacred Monkey Forest Sanctuary, enjoy a traditional Balinese massage or get a feel for historic Bali at Goa Gajah.
Show more
Show less
Departing
Jan 2021 - Oct 2021
2 night hotel stay in Singapore
2 night hotel stay in Kuala Lumpur
5 night hotel stay in Bali
All flights & taxes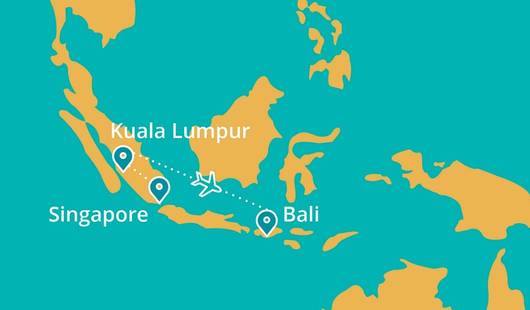 Itinerary
Singapore
Fly to Singapore, a city of contrasts, where sacred shrines sit in the shadows of science-fiction-style architecture and pristine streets lead to wild rainforests with dense canopies. Whether you're a foodie, explorer, collector or action seeker, Singapore has something for everyone. Enjoy word-class theme parks, local galleries and museums or indulge in local cuisine from street lined foot stalls.
M Social
Park Hotel Alexandra
Holiday Inn Atrium
Hotel G Singapore
Kuala Lumpur
Discover city life amidst Kuala Lumpur's cosmopolitan streets and a skyline dominated by the glittering Petronas Towers. Fully connect with the locals by indulging in their favourite pastimes; shopping and eating. Spend all day in glitzy air-conditioned malls or hit the streets to feast on food from local hawker stalls. Whatever you choose, this city is best to be explored on foot.
Element Kuala Lumpur by Westin
The Kuala Lumpur Journal
Impiana KLCC Hotel
Bali
Bali has it all: cliffside temples overlooking the sea, tranquil sunsets and volcanos looped with walking trails that reveal beautiful views. Here, you'll enjoy rich Balinese culture, luxe beachside resorts and superb eating, all with a tropical state of mind. Head to Seminyak for designer shopping, Kuta for entertainment and nightlife, and Canggu for the entire package. Whether you're after rich cultural experiences or sandy beaches, you won't be disappointed.
The Alea Hotel Seminyak
Golden Tulip Devins Seminyak
Sense Seminyak
Swiss Belhotel Segara
Prices
January 2021 Standard from
R22,499
February 2021 Standard from
R22,999
March 2021 Standard from
R22,999
April 2021 Easter School Holidays from
R24,999
April 2021 Standard from
R23,999
May 2021 Standard from
R23,999
June 2021 Standard from
R22,999
June 2021 June School Holidays from
R28,999
July 2021 Standard from
R25,999
August 2021 Standard from
R24,999
September 2021 Standard from
R24,999
September 2021 September School Holidays from
R26,999
October 2021 Standard from
R20,999
Phone: 0861 666 481
Contact us
Phone now to discuss and book your trip. Our team of Travel Experts can work with you one on one to personalise your itinerary.
Calls are free of charge.
Mon to Fri: 9am - 6pm
Sat: 9am - 4pm, Sun: 10am - 4pm