Sealife Resort & Spa Mauritius
4* All-Inclusive
Experience bliss on the postcard-perfect island of Mauritius with its sugar-white sand, shimmering lagoons and majestic colourful reefs. Its laid back vibe guarantees an oasis of peace and tranquillity.
Located on a quiet secluded bay, just minutes from Grand Baie on Mauritius' Northern coast, overlooking the Coin de Mire, Flat and Round Islands, you'll discover the 4* all-inclusive Sealife Resort & Spa.
Recently refurbished for 2020 with fresh tropical décor, your Superior Double room offers a space of simplicity and tranquillity, elegantly decorated with a fresh and colourful Mauritian charm. Take this opportunity to unwind on your own private patio with your morning coffee or a refreshing afternoon cocktail as you overlook the picturesque views of the pool or ocean.
Encased in the tropical serenity of Mauritius, you're in the prime holiday location to relax and unwind. Spend some time in the hotel's spa and choose from a selection of rejuvenating treatments, guaranteed to make your holiday an even more fabulous experience.
After being thoroughly pampered, you'll be able to sit back and discover a luxury dining experience in either of the two fabulous restaurants offered at the resort, with meals prepared by expert and experienced chefs.
Show more
Show less
Departing
Feb 2020 - Dec 2020
All flights
All taxes
All transfers
7 night all-inclusive stay at the recently refurbished 4* Sealife Resort & Spa, Mauritius
All-inclusive meals, alcoholic & non-alcoholic beverages available
In-house snorkelling, kayaks & pedalos, paddle boards, and boat excursions available
Use of all spas, fitness center, and wellness facilities*
All flights & taxes
Return airport to resort transfers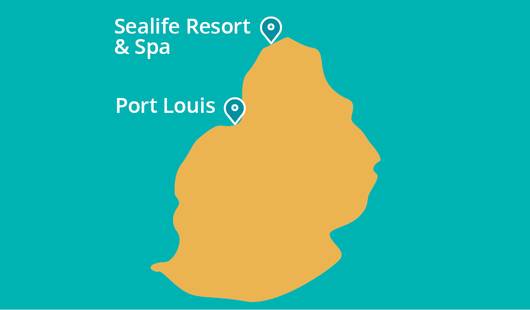 Prices
08 Feb 2020 - 15 Feb 2020 Standard from
R19,999
10 Mar 2020 - 17 Mar 2020 Standard from
R18,999
20 Mar 2020 - 27 Mar 2020 Easter School Holidays from
R20,999
18 Apr 2020 - 25 Apr 2020 Standard from
R17,999
02 May 2020 - 09 May 2020 Standard from
R17,999
02 Jun 2020 - 09 Jun 2020 Standard from
R18,999
14 Jun 2020 - 21 Jun 2020 June School Holidays from
R19,999
13 Jul 2020 - 20 Jul 2020 Standard from
R17,999
13 Aug 2020 - 20 Aug 2020 Standard from
R18,499
02 Sep 2020 - 09 Sep 2020 Standard from
R15,999
02 Oct 2020 - 09 Oct 2020 Standard from
R16,999
10 Nov 2020 - 17 Nov 2020 Standard from
R18,999
02 Dec 2020 - 09 Dec 2020 Standard from
R19,499
22 Dec 2020 - 29 Dec 2020 Christmas School Holidays from
R24,999
Phone: 0861 666 481
Contact us
Phone now to discuss and book your trip. Our team of Travel Experts can work with you one on one to personalise your itinerary.
Calls are free of charge.
Mon to Fri: 9am - 6pm
Sat: 9am - 4pm, Sun: 10am - 4pm