Romantic European Capitals
Discover Paris, Venice & Rome
Visit the romantic capitals of Europe with this incredible nine-night holiday of a lifetime to Paris, Venice and Rome.
A stay in Paris, the "city of love", is an unforgettable experience where you can explore the winding streets of Montmartre and the view from the top of the Eiffel Tower, tackle the shops on the Champs Elysées, or get into the French lifestyle as you sit at a pavement cafe watching the world go by.
Once you have been amazed by Paris, slow down and fall in love again as Venice is only a short flight away. This magical city offers experiences unlike any other in the world. Situated in a lagoon and scattered with thousands of canals, it has barely changed in 1500 years. Venice is unlike any other town. No matter how often you've seen it in photos and films, the real thing is more dreamlike than you could ever imagine.
Your adventure through this romantic package will take you to the astoundingly beautiful Italian capital of Rome by train. Here, you can marvel at the Sistine Chapel, sit on the Spanish Steps, enjoy a gelato or throw a coin in the Trevi Fountain to ensure a speedy return to Rome; the Eternal City, a city of romance, of religion and revolutions.
Let your heart rule your head in true romantic style. Love is in the air when you step foot in Europe's most amorous cities. Begin your love affair with Imagine Holidays' Romantic trio.
Show more
Show less
Departing
Jun 2019 - Feb 2020
All flights
All taxes
Rail journey
3 night hotel stay in Paris
3 night hotel stay in Venice
3 night hotel stay in Rome
Return flights & taxes
Rail transfer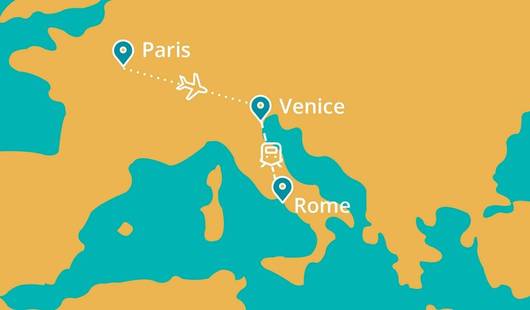 Itinerary
Paris
France's cosmopolitan capital is packed with culture, where the streets ring with romance and live music. Home to world-famous art galleries, cafés, bars and some of the best food in the world, you'll be spoilt for choice with cuisine and entertainment. Catch a show at the Moulin Rouge, visit the Sacre Coeur or go shopping in the chic stores of Champs-Élysées: Paris has something for everyone.
Best Western Premier Le Swann
Hotel Garden Elysee
Opera Cadet
Renaissance Paris La Defense Hotel
Venice
Discover the secret passageways, dramatic Gothic architecture and the famous Venetian cuisine; all of which contribute to the beauty and intrigue of this enchanting city. Defying both logic and architectural techniques, the city stands as beautiful as it was the day it came into fruition, an incredibly well-preserved network of waterways and grand palazzi. Take a trip on a gondola, an iconic experience and undisputed romantic symbol of this timeless city.
Hilton Garden Inn Venice
Plaza Venice Mestre
NH Laguna Palace
Hotel Firenze
Rome
Explore streets steeped in ancient history, where Byzantine mosaics grace church ceilings and cool catacombs slumber beneath your feet. With three nights in this unforgettable location, you'll be awed by the scale of St Peter's Square at the Vatican and the imposing Colosseum as you quite walk in the footsteps of gladiators. In between chic cafés and serene statues on street corners, you'll find treasures like the Spanish Steps and the Trevi Fountain, where a coin tossed into its shining waters promise a return to Rome.
Savoy Hotel Rome
Hotel Oxford
The Liberty Boutique Hotel
Prices
June 2019 Standard from
R28,999
June 2019 June School Holidays from
R29,999
July 2019 Standard from
R25,999
August 2019 Standard from
R23,999
September 2019 Standard from
R26,999
October 2019 Standard from
R27,999
November 2019 Standard from
R25,999
December 2019 Christmas School Holidays from
R35,999
December 2019 Standard from
R27,999
January 2020 Standard from
R23,999
February 2020 Standard from
R19,999
Phone: 0861 666 481
Contact us
Phone now to discuss and book your trip. Our team of Travel Experts can work with you one on one to personalise your itinerary.
Calls are free of charge.
Mon to Fri: 9am - 6pm
Sat: 9am - 4pm, Sun: 10am - 4pm