Northern Europe and Baltic Discovery
Discover Stockholm, Oslo and Copenhagen
Discover Scandinavia on a holiday that comprises a trio of Europe's most scenic capitals. Starting in Stockholm, explore a city that makes the most of its maritime and cultural heritage. With numerous museums dedicated to everything from Vikings to the pop group, ABBA, as well as edgy photography galleries and multi-ethnic street food markets, it's a city where you can guarantee a fun-filled three days.
Eat like a local and try a classic dish of meatballs, while a morning stroll around the city can be broken up with a 'fika', a kind of rest-break that involves sitting down with friends over a coffee and cake. It's a long-standing Swedish ritual that's ingrained in daily life.
Your next destination is Oslo in Norway, a leafy, pedestrian-friendly city that's full of surprises – be it geometrical architecture, statues that polarize opinion and world-famous works of art. With a history stretching back to the Viking age, Oslo is packed with an intriguing mix of buildings, from Neoclassical palaces to medieval wooden churches.
For jaw-dropping views of this city, head for Holmenkollen Ski Museum, which lies at the base of a curving, skyscraper-high ski jump, at the top of which is a vertigo-inducing observation deck. For art lovers, the Munch Museum, dedicated to Edvard Munch, painter of The Scream, is unmissable. Finally you'll fly to Copenhagen, the capital of Denmark, where grand royal palaces sit beside elaborate domed churches and water-side, glass-fronted office blocks.
Set out on foot for the iconic Little Mermaid statue at Langelinie promenade, inspired by the fairy tale of the same name by Danish author Hans Christian Andersen. Or see it on a one-hour canal cruise, which also passes Amalienborg Castle, Copenhagen Opera House and the Old Stock Exchange, famous for its spiral tower.
Show more
Show less
Departing
Apr 2020 - Dec 2020
Hotel Stay
All flights
All taxes
3 night hotel stay in Stockholm
3 night hotel stay in Oslo
3 night hotel stay in Copenhagen
All flights & taxes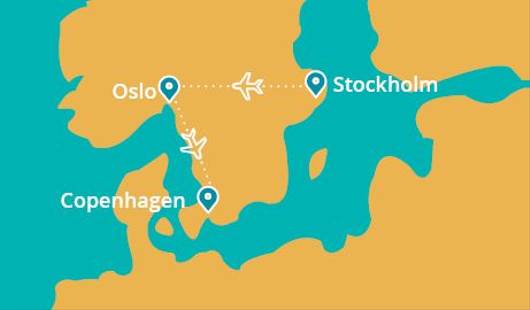 Itinerary
Stockholm
Surrounded by water and connected by numerous bridges, Stockholm is a spacious maritime city with world-class attractions. Immerse yourself in the ancient artefacts and replica ships of the Viking era, see 70s pop memorabilia at the kitsch ABBA Museum and try global cuisine at the waterside street-food market in Hornstull. The old town of Gamla stan is a delight, with 18th century buildings painted in the spectrum of autumnal colours and cobblestone streets no wider than a horse-drawn carriage. Here you'll find restaurants and bars galore, while the neighbouring district of Norrmalm is a great place to shop. International brands, independent stores and quirky gift shops – you'll find it all.
Elite Palace Hotel
ibis Styles Stockholm Odenplan
Scandic Continental
Oslo
Reminders of Oslo's cultural heritage are everywhere you go in this pleasant and picturesque capital. See the works of sculptor Gustav Vigeland or painter Edvard Munch, famous for 'The Scream', at museums dedicated to their works of art. You'll also enjoy exploring the city streets, where Neoclassical palaces rub shoulders with medieval wooden churches and cutting-edge architecture. Akershus Fortress, now a museum, is remarkably well-preserved and a great place to learn about the city's history. Why not get a true taste of Oslo by ordering kjøttkaker – pan-fried meat cakes - a classic Norwegian dish that is usually paired with greens and potatoes and often topped with gravy?
Scandic Sjølyst
Scandic Vulkan
Scandic Victoria Oslo
Copenhagen
One of Europe's oldest and most popular cities, Copenhagen's attractions include Tivoli Gardens, an enchanting wonderland filled with traditional fairground rides and picturesque lakes, and a canal network to rival Amsterdam. There's also the iconic Little Mermaid Statue based on the fairy tale by Hans Christian Andersen, which lies on a rock off the Langelinie promenade. From Viking treasures to royal palaces, there's plenty of history to explore here, but the city is also known for being ecologically progressive, with ambitious plans to be carbon neutral by 2025. Oslo is also a culinary hot spot with an impressive 15 Michelin-starred restaurants.
Absalon Hotel
Imperial Hotel
Copenhagen Admiral Hotel
Prices
April 2020 Easter School Holidays from
R21,999
April 2020 - May 2020 Standard from
R25,999
May 2020 Standard from
R29,999
June 2020 Standard from
R26,999
June 2020 - July 2020 June School Holidays from
R32,499
July 2020 Standard from
R26,499
August 2020 Standard from
R25,499
September 2020 Standard from
R26,999
September 2020 September School Holidays from
R26,499
October 2020 Standard from
R24,499
November 2020 Standard from
R25,499
December 2020 Standard from
R26,499
December 2020 Christmas School Holidays from
R28,499
Phone: 0861 666 481
Contact us
Phone now to discuss and book your trip. Our team of Travel Experts can work with you one on one to personalise your itinerary.
Calls are free of charge.
Mon to Fri: 9am - 6pm
Sat: 9am - 4pm, Sun: 10am - 4pm