North American Explorer
Discover New York, Las Vegas & Los Angeles
Explore the magnificent cities of the United States of America including New York, Las Vegas and Los Angeles.
On your nine night discovery of North America, you'll first fly to New York, the city that never sleeps. Your holiday includes a two day premium pass for the Hop On Hop Off bus so you can visit all the city's top sites including the Empire State Building, Times Square and the Metropolitan Museum of Art. Whether you're here for shopping, food, culture or entertainment, we guarantee you won't be disappointed by this much talked about city.
Departing
Apr 2021 - Oct 2021
All flights
All taxes
Tours included
3 night hotel stay in New York
Big Bus New York Premium 2-Day Hop-on Hop-off Tour
3 night hotel stay in Las Vegas
Grand Canyon South Rim Bus Tour
3 night hotel stay in Los Angeles
All flights & taxes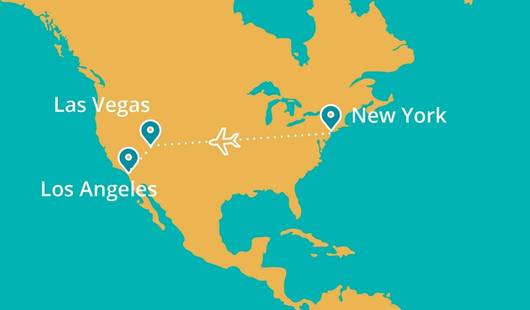 Itinerary
New York
With icons from popular culture at every turn, New York is the perfect place to enjoy an activity packed break. From the Statue of Liberty and the neon lights of Broadway, to Fifth Avenue's Museum Mile and Central Park's peaceful walkways, the Big Apple is awash with things to see and do to suit every kind of traveller.
The best way to explore New York is using the two day Hop On Hop Off bus pass we've included with your holiday. Keep an eye out for streets immortalised in your favourite films and cram as much as you can into your stay. Whether you climb to the Top of the Rock for incredible views, shop 'til you drop or sample some of the famous New York cuisine in one of the city's gastronomic hotspots, spend your days soaking up everything this city has to offer. Will you try the city's much-loved bagel or tear into its thin, floppy pizza? From doughnuts to cronuts, cheesecakes to cupcakes, you'll be spoilt for choice!
Las Vegas
If New York is the city that never sleeps, Vegas is not far behind. Landing in the technicolour-tinged city in the desert, prepare to be amazed. Whether it's your first visit or your fifth there's always something new to see that will almost certainly take your breath away.
Dip beneath the artificial veneer of Vegas and you'll find an array of amazing restaurants, spectacular entertainment shows and more shopping than you could ever imagine. During your stay you'll also enjoy a fun-filled bus tour that will take you to the Grand Canyon National Park where you'll visit the deepest and widest part of the canyon.
Los Angeles
Uncover the world of the rich and famous during your three night stay and visit some of LA's most glamorous areas.
You'll visit Beverly Hills, enjoy a stunning view from Mulholland Drive, and get an up-close look at the city's most iconic attractions, including the legendary Hollywood sign. Along the way, you'll see some breathtaking mansions which are the current and former homes of celebrities.
Prices
03 Apr 2021 - 12 Apr 2021 Easter School Holidays from
R35,999
29 Apr 2021 - 07 May 2021 Standard from
R31,999
21 May 2021 - 30 May 2021 Standard from
R35,999
07 Jun 2021 - 15 Jun 2021 Standard from
R37,999
18 Jun 2021 - 27 Jun 2021 June School Holidays from
R39,999
09 Jul 2021 - 18 Jul 2021 Standard from
R36,999
11 Aug 2021 - 20 Aug 2021 Standard from
R33,999
01 Sep 2021 - 10 Sep 2021 Standard from
R34,999
25 Sep 2021 - 04 Oct 2021 September School Holidays from
R29,999
07 Oct 2021 - 16 Oct 2021 Standard from
R34,999
Phone: 0861 666 481
Contact us
Phone now to discuss and book your trip. Our team of Travel Experts can work with you one on one to personalise your itinerary.
Calls are free of charge.
Mon to Fri: 9am - 6pm
Sat: 9am - 4pm, Sun: 10am - 4pm