Multicentre
Highlights of Italy
Discover Rome, Florence, Venice & Milan
Book now for Sep - Dec 2021
Get the full experience...
Italy's atmospheric cities have been romancing visitors for millennia, with a heady mix of breathtaking scenery, ancient history and sumptuous cuisine. Embark on the holiday of a lifetime with a tour of Italian gems – Rome, Florence, Venice and Milan, and you too could fall for Italy's plentiful charms!
Fly to Rome, the Eternal City, and lose yourself in the tiny backstreets of the Trastevere district, sipping on an Aperol Spritz at sundown before seeking out a neighbourhood restaurant in which to indulge your taste buds.
Flit from the striking Spanish Steps, overflowing with florals, to the thundering Trevi Fountain and the cavernous ring of the Colosseum, before retiring to your hotel in the heart of the city for a well-earned rest.
Travel north via train – Italy's rail network is extremely comfortable and efficient – to the Renaissance city of Florence, often described as an open air museum thanks to its plethora of architectural gems. Cross the Ponte Vecchio, a bridge that carries its weighty history as well as it does its foot passengers, following in the steps of Dante, Brunelleschi and Michelangelo. Once you've finished marvelling at the attractions of the venerable Uffizi Gallery or made eye contact with the famous David, there are plenty of gelaterias to sample – which one will get your pick?

Your next destination is a showstopper: the dreamy canals and gently arching bridges of Venice. Defying both logic and architectural techniques, the city stands as beautiful as it was the day it came into fruition, an incredibly well-preserved network of waterways, grand palazzos and world-class galleries just waiting to be explored.
Lastly, to Milan: here, the spires of the grand cathedral pierce the sky and the shopping is second to none from designer boutiques, to quirky, one of a kind shops where you can pick up the perfect souvenir of your trip. Four stunning cities in one trip - what better way to experience Italy's highlights in style.
Package Includes
All flights, taxes & rail journeys
Hotel Stays
3 night four-star hotel stay in Rome
2 night hotel stay in Florence
3 night hotel stay in Venice
1 night four-star hotel stay in Milan
At a glance
Departing Sep 21 - Dec 21
Prices from
Standard
Price based on 03 Dec 2021 departure
Here to help
Call to book:
0861 666 481
Opening hours:
Mon to Fri: 9am - 5pm
Florence
Florence is the capital of Italy's Tuscany region and is home to many awe-inspiring masterpieces of Renaissance art and architecture. As well as the iconic Duomo, a cathedral with a terracotta-tiled dome, the city also boasts the remarkable Uffizi Gallery which boasts famous works from Raphael, Michelangelo, Da Vinci and Botticelli.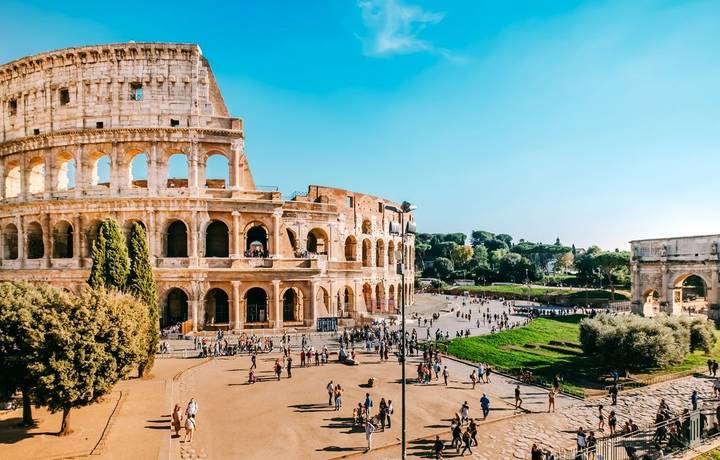 DAY 1 - 4
| 2 - 5 Sep 2021
Explore streets steeped in ancient history, where Byzantine mosaics grace church ceilings and cool catacombs slumber beneath your feet.
With three nights in this unforgettable location, you'll be awed by the scale of St Peter's Square at the Vatican and the imposing Colosseum as you walk in the footsteps of gladiators. In between chic cafés and serene statues on street corners, you'll find treasures like the Spanish Steps and the Trevi Fountain, where a coin tossed into its shining waters promise a return to Rome.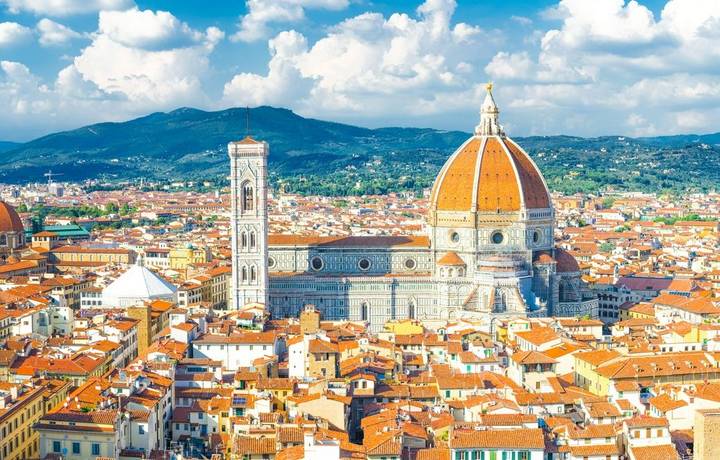 DAY 4 - 6
| 5 - 7 Sep 2021
The capital of the Tuscany region is an achingly romantic city of rivers, bridges and Renaissance art and architecture.
Embrace beautiful Florence, the cradle of the Renaissance and a city made for exploring on foot. Stroll down romantic streets and marvel at Brunelleschi's red cathedral dome on Piazza del Duomo, waiting for the bells to chime.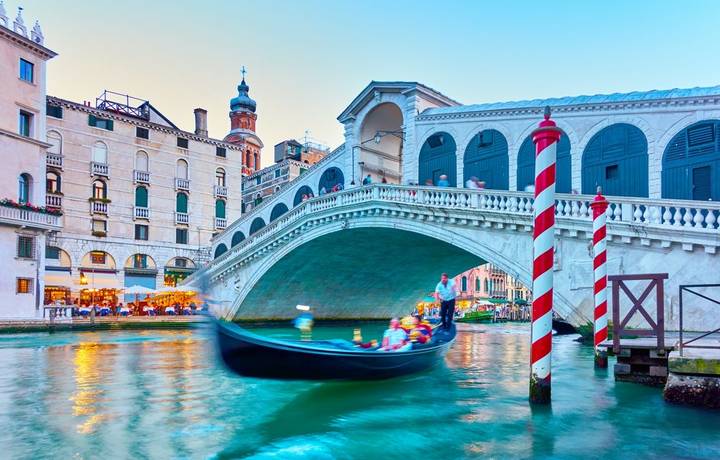 DAY 6 - 9
| 7 - 10 Sep 2021
Discover the secret passageways, dramatic Gothic architecture and the famous Venetian cuisine; all of which contribute to the beauty and intrigue of this enchanting city.
Defying both logic and architectural techniques, the city stands as beautiful as it was the day it came into fruition, an incredibly well-preserved network of waterways and grand palazzi. Take a trip on a gondola, an iconic experience and undisputed romantic symbol of this timeless city.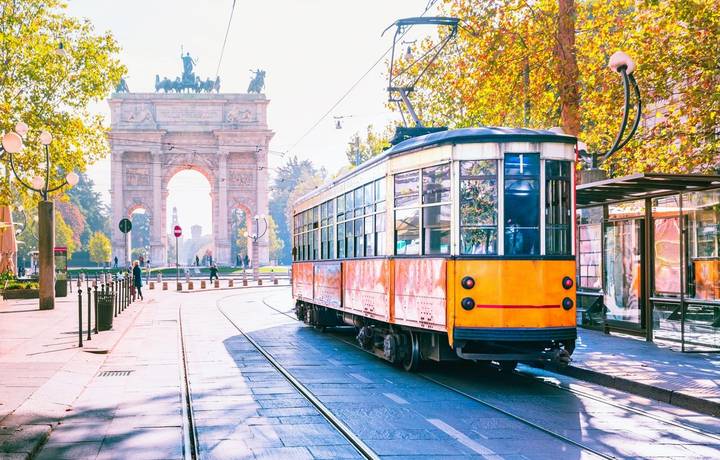 DAY 9 - 10
| 10 - 11 Sep 2021
Take a stroll around fashionable Milan and you'll uncover a creative and historic city, where modern marvels meet traditional Italian heritage.
Visit the Brera district with its botanical garden, fantastic shopping and thrilling nightlife. Or stroll around Sforza Castle, a huge medieval-renaissance fortress with museums and art by da Vinci and Michelangelo.
Your Hotel Information
Demetra Hotel - Rome
Situated in the heart of Rome, the four-star Demetra Hotel is nestled in an elegant historical building, restored to provide a modern yet charming facility. Fabulously located, you'll find some of the city's most remarkable attractions including the Colosseum, the Baths of Diocletian and the Roman Forum, all within easy reach. All rooms are stylishly decorated with refined modern elegance and feature flat-screen TVs, air conditioning, high-speed Wi-Fi and a private bathroom.
General Information
Transfer from the airport: Approx. 38 minutes
Number of rooms: 27
Complimentary WiFi

Hotel de la Pace - Florence
Poised in the centre of the charming city, the four-star Hotel De La Pace is the ideal choice for those looking for refined comfort within walking distance of some of the city's major attractions. Just five minutes from the hotel, you'll find the Galleria dell'Accademia and Michelangelo's David. Romantic and peaceful, the hotel is in a perfectly restored 19th century art nouveau building. Features include a sophisticated American bar, 41 bright and spacious rooms detailed with contemporary furnishings and modern amenities.
General Information
Transfer from the airport: Approx. 47 minutes
Number of rooms: 41
Complimentary WiFi
Air conditioning
Restaurant
Bar
Room Service
24-hour front desk
Laundry service
Buffet breakfast
Hotel Scandinavia - Venice
The three-star Hotel Scandinavia is located in one of the oldest patrician houses in the city, with walls and foundations that date back to the Byzantine era. The 18th century atmosphere of this remarkable hotel has remained intact over the centuries and can be witnessed through its sumptuous rooms complete with period furniture, Murano glass lamps and striking paintings. Centrally located, you're in close proximity to some of the city's most beautiful attractions, the heart of Venice – Piazza San Marco, and the Rialto Bridge, one of the most famous bridges in the world, are just five minutes away on foot.
General Information
Transfer from the airport: Approx. 15 minutes
Number of rooms: 33
Complimentary WiFi
Air conditioning
Restaurant
Bar
Room Service
24-hour front desk
Buffet breakfast
Ramada Plaza Milano
Just 500 metres from the subway and under 10 stops away from Duomo, the Ramada Plaza Milano is a superb choice for any sort of traveller, whether you're looking to enjoy some time out to catch some of the sun's rays in the hotel's sprawling lush garden and unwind in the pool; or venture out to explore the fashionable city of Milan. All rooms have a spacious, contemporary feel and all include a large balcony, from which to enjoy fantastic views. Enjoy a treatment in the wellness spa, lounge by the pool with a refreshing cocktail and savour mouth-watering flavours from the specialty restaurants serving a blend of international and traditional dishes.
General Information
Transfer from the airport: Approx. 1 hour 3 minutes
Number of rooms: 166
Complimentary WiFi
Two restaurants
Fitness area
Spa and Sauna
Bike rental
Air conditioning
Bar
Room Service
24-hour front desk
Laundry Service
Terrace
regional flights available at a supplement