Highlights of Italy
Discover Rome, Florence, Venice & Milan
Italy's atmospheric cities have been romancing visitors for millennia, with a heady mix of breathtaking scenery, ancient history and sumptuous cuisine. Embark on the holiday of a lifetime with a tour of Italian gems – Rome, Florence, Venice and Milan, and you too could fall for Italy's plentiful charms!
Fly to Rome, the Eternal City, and lose yourself in the tiny backstreets of the Trastevere district, sipping on an Aperol Spritz at sundown before seeking out a neighbourhood restaurant in which to indulge your taste buds.
Flit from the striking Spanish Steps, overflowing with florals, to the thundering Trevi Fountain and the cavernous ring of the Colosseum, before retiring to your hotel in the heart of the city for a well-earned rest.
Travel north via train – Italy's rail network is extremely comfortable and efficient – to the Renaissance city of Florence, often described as an open air museum thanks to its plethora of architectural gems. Cross the Ponte Vecchio, a bridge that carries its weighty history as well as it does its foot passengers, following in the steps of Dante, Brunelleschi and Michelangelo. Once you've finished marvelling at the attractions of the venerable Uffizi Gallery or made eye contact with the famous David, there are plenty of gelaterias to sample – which one will get your pick?

Your next destination is a showstopper: the dreamy canals and gently arching bridges of Venice. Defying both logic and architectural techniques, the city stands as beautiful as it was the day it came into fruition, an incredibly well-preserved network of waterways, grand palazzos and world-class galleries just waiting to be explored.
Lastly, to Milan: here, the spires of the grand cathedral pierce the sky and the shopping is second to none from designer boutiques, to quirky, one of a kind shops where you can pick up the perfect souvenir of your trip. Four stunning cities in one trip - what better way to experience Italy's highlights in style.
Show more
Show less
Departing
Jan 2021 - Feb 2021
All flights
All taxes
Rail journey
3 night hotel stay in Rome
2 night hotel stay in Florence
3 night hotel stay in Venice
1 night hotel stay in Milan
Return flights & taxes
All rail journeys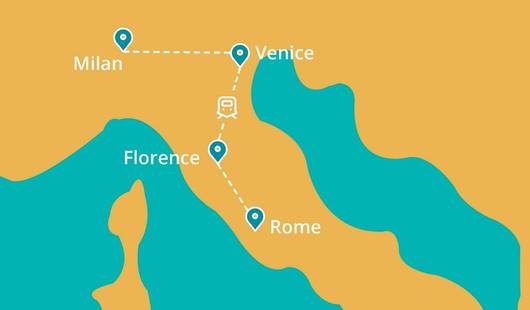 Contact us
Phone now to discuss and book your trip. Our team of Travel Experts can work with you one on one to personalise your itinerary.
Calls are free of charge.
Mon to Fri: 9am - 6pm
Sat: 9am - 4pm, Sun: 10am - 4pm