Elephant Hills Resort in Victoria Falls
4* Bed & Breakfast
Victoria Falls is considered one of the seven natural wonders in the world and it isn't difficult to see why. With the falls roaring over craggy cliffs, it is the world's largest curtain of falling water, creating a billowing mist, gifting it the local name 'The Smoke That Thunders'. Not only is it a feature of incredible natural beauty, it is the lifeline to lush Victoria Falls Rainforest because the mist from the falls coalesces into rain clouds, feeding the delicate ecosystem with rainfall every day. As if creating this phenomenon wasn't enough, it boasts a 'Moonbow' which, due to bright moonlight, creates a rainbow at night. The wonders here never cease and neither will your awe of this stunning feature.
Always wondered how you could visit Victoria Falls and keep your golf skills up to par? The answer is staying at the Elephant Hills Hotel. With a stunning 18 hole golf course, there are other sporty activities you could pursue like playing in one of the tennis or squash courts to practice your backhand swing. While it may be four kilometres away from Victoria Falls, it isn't a chore to get there as the hotel offers hourly complimentary shuttles to Victoria Falls Town from 9am to 5pm, delivering you within walking distance of the magnificent Victoria Falls. Whatever room you stay in, you'll be afforded an amazing view. In the west facing rooms you can see the mighty Zambezi River and, in the east, you can stare down at perfectly manicured lawns where, sometimes, the local wildlife come to roam.
Show more
Show less
All flights
All taxes
All transfers
2 night 4* stay at the Elephant Hills Resort in Victoria Falls
Breakfast daily
Return flights, taxes & transfers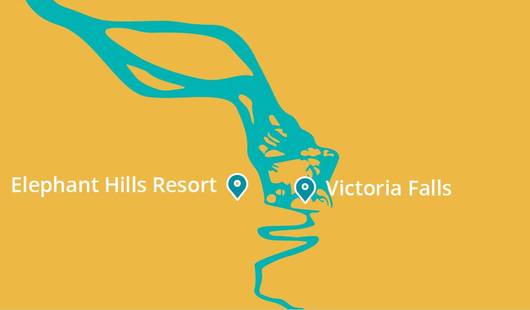 Contact us
Phone now to discuss and book your trip. Our team of Travel Experts can work with you one on one to personalise your itinerary.
Calls are free of charge.
Mon to Fri: 9am - 6pm
Sat: 9am - 4pm, Sun: 10am - 4pm