Discoveries Down Under
Includes a 3 Night All-Inclusive Indian Pacific Train Journey
Enjoy an exciting hotel stay in Sydney where you'll explore the cosmopolitan city and embark on an unforgettable transcontinental train journey on board the Indian Pacific, followed by three night stay in Perth to explore the highlights of Western Australia.
Begin your holiday with a three night hotel stay in the bustling city of Sydney where you'll have a chance to explore it's captivating landmarks including the iconic Sydney Opera House and Sydney Harbour Bridge; as well as take advantage of the Hop-On-Hop-Off cruise pass that will take you round fascinating sights on board Captain Cook's ferry.
Next, you'll board the magnificent Indian Pacific for your transcontinental voyage to Perth, following the path of bush pioneers, gold rush prospectors and legendary adventurers. Encased in luxury, you'll enjoy all-inclusive dining in the Queen Adelaide Restaurant and relax in your private cabin with en-suite. Marvel at the ever-changing scenery from harsh barren landscapes and the majestic Blue Mountains to the raw beauty of the Nullarbor Plain and lush eucalyptus forests, before arriving at your final destination, Perth, where you'll disembark your Australian end-to-end journey, for a three night hotel stay. During your stay, you'll embark two tours to uncover more of this beautiful city.
Show more
Show less
Departing
Mar 2020 - Aug 2020
All flights
All taxes
All transfers
Rail journey
Tours included
3 night 4* hotel stay in Sydney
Sydney Harbour Hop-On-Hop-Off ferry cruise pass
3 night all-inclusive Gold Service Indian Pacific train journey; including all on board meals, alcoholic and non-alcoholic beverages, off train excursions and Outback experiences
3 night 4* hotel stay in Perth
Perth highlights tour
Rottness Island deluxe tour
All flights, taxes & transfers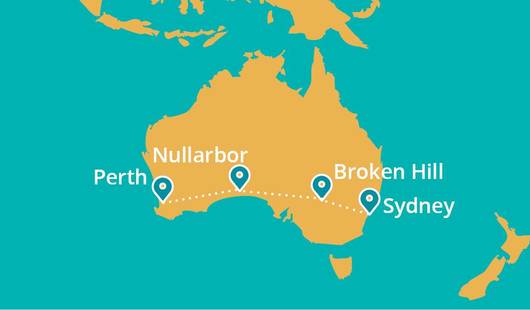 Prices
29 Mar 2020 - 07 Apr 2020 Standard from
R50,999
12 Apr 2020 - 21 Apr 2020 Standard from
R50,999
10 May 2020 - 19 May 2020 Standard from
R51,999
14 Jun 2020 - 23 Jun 2020 Standard from
R48,999
05 Jul 2020 - 14 Jul 2020 Standard from
R49,999
09 Aug 2020 - 18 Aug 2020 Standard from
R51,999
Phone: 0861 666 481
Contact us
Phone now to discuss and book your trip. Our team of Travel Experts can work with you one on one to personalise your itinerary.
Calls are free of charge.
Mon to Fri: 9am - 6pm
Sat: 9am - 4pm, Sun: 10am - 4pm