Asian Fusion Beach Break
Includes Hotel Stays in Phuket, Abu Dhabi & Seychelles
On this thirteen night beach break you'll sample the Asian flavours of Phuket, the Middle Eastern charm of Abu Dhabi and the spectacular beaches of the Seychelles.
Your holiday begins with seven nights in Phuket, the largest of Thailand's islands. The mountainous island is covered with rainforest and dotted with temples, but its main draw is its beaches. Here you'll find plenty of nightlife, from casual restaurants and busy nightclubs in Patong to high end bars and dining establishments in the many stylish resorts. With its location on the Andaman Sea diving and watersports are popular, so you can put on your snorkel and view the colourful underwater world and dry off in the sun on the stunning beaches.
Next you'll fly to Abu Dhabi for three nights. The capital of the UAE is set between the desert and the Arabian Sea, so you can have plenty of sandy adventures. Its beaches of clean white sand are overlooked by modern skyscrapers and there are plenty of attractions away from the beach to keep you occupied, such as the beautiful white Sheikh Zayed Mosque, Ferrari World and the dunes of the Empty Quarter, which seem to stretch endlessly into the horizon.
Your final three nights will be spent in the gorgeous Seychelles. The granite island chain is full of colour, from the sparkling turquoise sea to the golden sandy beaches and emerald green rainforest. A laid-back philosophy means you can just switch off and relax, enjoying the great hospitality and glorious natural scenery – don't forget to charge your camera. The soft beaches are just the beginning, from nesting sea turtles, to free-roaming giant Aldabra tortoises. A relaxing stay here is a fantastic way to end your holiday in the sun.
Show more
Show less
Departing
Sep 2019 - May 2020
7 night hotel stay in Phuket
3 night hotel stay in Abu Dhabi
3 night hotel stay in the Seychelles
All flights & taxes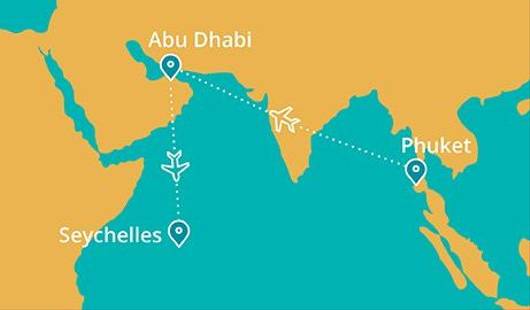 Itinerary
Phuket
Phuket is Thailand's largest island, an idyllic province of soft sandy beaches and swaying palm trees. Lie back and relax or seek out adventure; there are a multitude of restaurants, bars and watersports on offer, as well as tours into the less-visited parts of the island.
You'll have plenty of time to explore, so you could head to the Big Buddha of Phuket in Chalong Bay that stands proud atop one of the highest points of the island, enjoy a pampering spa treatment or enrol in a cooking class and learn how to make the famed taste of Thailand at home. With its location on the Andaman Sea, diving and watersports are also popular, so you can put on your snorkel and view the colourful underwater world or head to Phuket Town, rich in both art and culture.
Crib Patong
Eastin Yama Hotel
Marina Phuket Resort
Holiday Inn Express Patong
Abu Dhabi
Abu Dhabi, the capital of United Arab Emirates is an enchanting city bustling with activity. Start the tour with a visit to the Sheikh Zayed Grand Mosque, a stunning masterpiece to the late Sheikh Zayed.
Take a trip to the Mina Zayed Port markets which include fish, dates and vegetable markets, followed by Heritage Village, a man made project that beautifully reflects and showcases traditional crafts and the reality of the lifestyle of a Bedouin Village.
Sofitel Abu Dhabi Corniche
Ramada Abu Dhabi Corniche
Corniche Hotel Abu Dhabi
Seychelles
Home to white-sand beaches kissed by clear waters that are filled with colourful coral and exotic marine life, the Seychelles are a fantastic destination to go diving and snorkelling, or simply relax on the beach.
The Seychelles also offer two UNESCO World Heritage Sites: the Vallée de Mai Nature Reserve with its palm forest, largely unchanged since prehistoric times, and Aldabra Atoll, a coral island home to the largest giant tortoise population in the world.
Berjaya Beau Vallon Bay Beach Resort and Casino
AVANI Seychelles Barbarons Resort & Spa
Coral Strand Hotel
Prices
September 2019 Standard from
R19,999
October 2019 Standard from
R21,999
November 2019 Standard from
R24,999
December 2019 Standard from
R23,999
December 2019 Christmas School Holidays from
R40,999
January 2020 Standard from
R25,999
February 2020 Standard from
R26,499
March 2020 Standard from
R26,999
April 2020 Easter School Holidays from
R34,999
April 2020 Standard from
R28,999
May 2020 Standard from
R27,999
Phone: 0861 666 481
Contact us
Phone now to discuss and book your trip. Our team of Travel Experts can work with you one on one to personalise your itinerary.
Calls are free of charge.
Mon to Fri: 9am - 6pm
Sat: 9am - 4pm, Sun: 10am - 4pm