Arabia to The Mediterranean Adventure
Discover Dubai, Istanbul & Athens
Explore the enchanting atmosphere of the Middle East and Europe on this holiday to three culturally fascinating destinations.
Begin your holiday with a three night hotel stay in Dubai and admire the clash of contrasts, from centuries-old souks filled with gold and frankincense to glittering skyscrapers and air-conditioned megamalls. Relax on one of the sun-soaked beaches, sip a cocktail on one of Dubai's man-made islands or explore the city's mercantile traditions at bazaars and markets around the old centre.
Next, you'll fly to Istanbul, an exciting city, full of cultural diversity, that straddles both Europe and Asia, for a four night hotel stay. Highlights of the city include the iconic Hagia Sophia Museum with it's 6th century dome and rare Christian mosaics; the open-air, Roman-era Hippodrome and the Grand Bazaar, one of the largest and oldest covered markets in the world.
Finally, your holiday ends with a three night hotel stay in Athens, Greece's capital. The heart of Ancient Greece; you'll marvel at the spectacular skyline of the Parthenon temple and the Acropolis. Head to the Acropolis Museum to discover more about the birthplace of Western Civilisation, literature and philosophy.
Show more
Show less
Departing
Dec 2019 - Sep 2020
3 night hotel stay in Dubai
4 night hotel stay in Istanbul
3 night hotel stay in Athens
All flights & taxes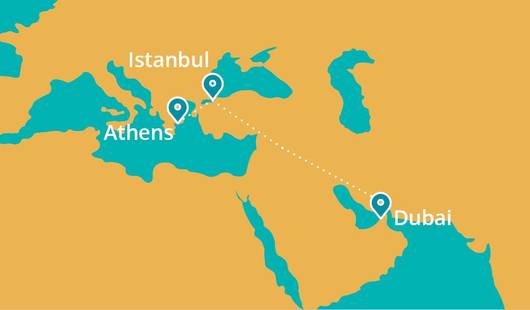 Itinerary
Dubai - Hotel Stay
Welcome to Dubai, where all that glitters truly is gold. Here, you'll meet sparkling skyscrapers, glitzy shops and sun-soaked beaches, making it the ideal destination to enjoy a well-rounded break.
Dubai is a bright and bold clash of modern and traditional, where you can haggle for gold in a centuries-old souk and shop 'til you drop in an air-conditioned megamall. This is a city that ensures that all possibilities are endless, so your three night stay can be spent soaking up the sun on the beach, visiting one of the fantastic water parks, taking a trip up the tallest building in the world or sipping a chilled cocktail on a piece of reclaimed land shaped like a palm frond.
Ibis Styles Dubai Jumeirah
Golden Tulip Media Hotel
Flora Grand Hotel
Flora al Barsha
Istanbul - Hotel stay
Arriving in the chaotic, brash and wonderfully exciting city of Istanbul, discover the magical meeting place of East and West, where Europe tumbles in Asia. Full of cultural diversity, classic cuisine and an impressive array of galleries, this vibrant, inclusive and expanding community is not to be missed.
Discover the museums of Sultan Ahmet, barter in colourful markets selling everything from soft leather to aromatic spices, and dine on kebabs, mezes and freshly caught fish. An Istanbul discovery is a chance to experience life in amazing technicolour.
Ajwa Hotel Sultanahmet
Best Western Antea Palace Hotel & Spa
Athens - Hotel stay
Europe's ancient capital has many stories to tell as you explore ancient landmarks where much of western civilisation, literature and philosophy was born. While the skyline is still dominated by the magnificent Acropolis, modern Athens is a bustling city with vibrant open air restaurants and cafes.
Home to exciting historical sites such as the Temple of Olympian Zeus, as well as world-class institutes such as the National Archaeological Museum. It also has a thriving nightlife as well as lively markets, luxurious Hammam baths, and stunning views of the city from the peak of Mount Lycabettus.
Areos Hotel
Novus
Prices
December 2019 Christmas School Holidays from
R26,999
January 2020 Standard from
R19,999
February 2020 Standard from
R21,999
March 2020 Standard from
R20,999
April 2020 Easter School Holidays from
R23,999
April 2020 Standard from
R24,999
May 2020 Standard from
R22,999
June 2020 Standard from
R21,999
June 2020 June School Holidays from
R23,999
July 2020 Standard from
R22,999
August 2020 Standard from
R23,999
September 2020 Standard from
R25,999
September 2020 September School Holidays from
R25,999
Phone: 0861 666 481
Contact us
Phone now to discuss and book your trip. Our team of Travel Experts can work with you one on one to personalise your itinerary.
Calls are free of charge.
Mon to Fri: 9am - 6pm
Sat: 9am - 4pm, Sun: 10am - 4pm